Do you know what AutoFixer Pro 2018 is?
AutoFixer Pro 2018 might be advertised as a handy PC optimizer that could speed up your system. However, our computer security specialists say it is just another potentially unwanted program that detects a lot of insignificant Registry issues and asks to purchase its license to remove them. Therefore, it seems to us it is doubtful the application can make any difference to the computer's performance. Provided, you do not want to risk wasting money on a tool that might be useless we would not recommend investing in AutoFixer Pro 2018. Instead, we advise deleting the potentially unwanted program. If you take a look at the rest of the article, we will tell you more about the application, but if you have already decided to get rid of it, you could slide below the text and erase the unwanted software with the provided removal guide.
The potentially unwanted program is available on its website called mycomputerupdate.com. Nonetheless, besides this source, our computer security specialists believe AutoFixer Pro 2018 could be spread with pop-up ads. To avoid installing questionable applications in the future, we would recommend being more cautious when downloading new tools. Firstly, it is essential to check whether the program comes from reliable developers. Next, users should look for reviews or any other information that would help determine if the software can be trusted. Moreover, users who want to keep their systems clean should stay away from file-sharing websites as their suggested installers can be bundled with various unreliable applications. In some situations, it is possible to deselect unwanted suggestions, but first, the user has to choose custom installation settings, which is another thing we recommend doing if you want to keep your computer clean and safe.
After installation, AutoFixer Pro 2018 should settle in the %PROGRAMFILES% and %PROGRAMFILES(x86)% directories. Once launched it might suggest scanning the computer to detect issues that could influence its performance. Our computer security specialists say the potentially unwanted program recognized a lot of old Registry entries. Since it is doubtful deleting such data would change anything, the scanning results make us doubt whether the tool can boost the system. The problem is we cannot be sure as the software does not allow removing issues before purchasing its license and doing so without knowing if the program is beneficial to the computer does not seem to be smart. If you think so too, we advise you not to invest anything in AutoFixer Pro 2018, but to erase it.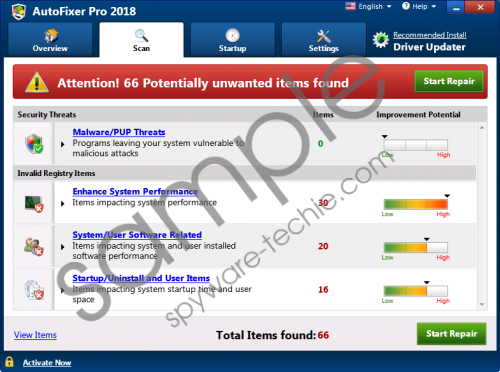 AutoFixer Pro 2018 screenshot
Scroll down for full removal instructions
The removal guide available below will help users delete the potentially unwanted program via Control Panel. The process should not be too complicated, but if it is or you prefer using automatic features, we would recommend downloading a reputable antimalware tool instead. Simply scan the system and click the removal button that should show up after the scan to get rid of AutoFixer Pro 2018 and other potential threats at once.
Erase AutoFixer Pro 2018
Windows XP/Windows Vista/Windows 7
Navigate to the Start menu.
Access the Control Panel.
Pick either Uninstall a program or Add or Remove Programs.
Click the suspicious application and select Uninstall.
Windows 8/Windows 10
Tap Windows Key+R.
Insert Control Panel and press OK.
Choose Uninstall a program.
Select the potentially unwanted program and press Uninstall.
In non-techie terms:
AutoFixer Pro 2018 is another potentially unwanted program that promises to boost the computer's performance. For example, before it, we have researched almost identical tools called Power Speedup 2018, Power Cleaner 2018, Win Speedup 2018, My Sys Mechanic, and so on. All of them work more or less the same: they detect old Registry data and claim deleting it will speed up the system. It is just before erasing the identified issues these applications ask to purchase their license, which does not make any sense to us as it is only natural the user should be able to see the software's benefits before buying it. If you think so too, we advise not to waste any time with this questionable program and erase it at one. The removal guide you should be able to see a bit above this paragraph will explain how to eliminate the potentially unwanted application via Control Panel. It can be erased with a reputable antimalware tool of your choice too.