Do you know what AutoClean Pro 2018 is?
AutoClean Pro 2018 is a new application that you may find on your system and may not recall installing it. This questionable program has indeed been classified as a potentially unwanted program (PUP) by our researchers because it may not be as beneficial as it claims of itself. In fact, such PC optimizers and cleaners are always questionable since their benefits are not very clear. To be frank, there is no proof that such a program can really boost your computer to run faster. Our researchers have inspected dozens of very similar PUPs like Pc Cleanup 2018 and Smart PC Tweaker in the past months. We do not say that this PUP means direct danger, but it may not be as useful as you may think, either. Unfortunately, it may enter your computer along with malicious infections, which obviously means multiple system security threats. This is why we suggest that you remove AutoClean Pro 2018 from your computer as well as all other possibly harmful programs.
Strangely enough, this PUP has about six official websites, including 1cleanup.com, securepcupdates.com, and quickpccleanup.com, where it is promoted. These sites are practically identical. As a matter of fact, this software is signed by TuneUp PC Tools, which is a signature used by other similar programs like Dr.Clean Pro 2018 and 1 Click SystemMechanic. It seems the creators are specialized in low-quality PC optimizer PUPs and that is not to say that it is illegal, of course. Still, it should give you an idea whether you should keep it or simply delete AutoClean Pro 2018 from your PC as soon as possible.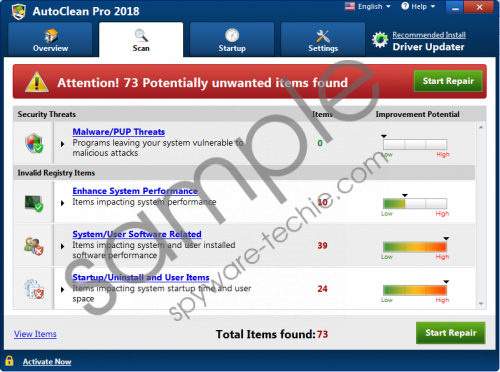 AutoClean Pro 2018 screenshot
Scroll down for full removal instructions
It gets even worse when you realize that this software is also spread in free software bundles. Such a bundles can carry several threats in the form of PUPs and malware infections as well. This is how most unsuspecting computer users infect their system with adware programs, browser hijackers, Trojans, fake alerts, keyloggers, and other even more dangerous threats. If you have downloaded a free program or a cracked file from a shady freeware or torrent site, it is very likely that you infected your computer when you installed that program. Such websites usually promote malicious bundles. But it is just as dangerous to click on corrupt third-party ads as well. You can be exposed to such ads when landing on suspicious websites (torrent, gaming, betting, dating, video streaming, etc.) or when your computer is infected with adware, for example. We advise you to run a full system malware scan after you delete AutoClean Pro 2018.
As we have explained, there is nothing new or unique about this PC optimizing software. It obviously claims that it can make your PC run faster but not even Microsoft believes that this can be true. Such a PUP may delete a number of useless junk files as well as registry entries, but the results will never really show in the performance of your computer. This PUP may show you hundreds of issues found on your computer but these are mostly light-weight issues compared to a proper malware infection, which this software would not necessarily be able to detect, not even the paid version. Speaking of which, you have to pay $23.95 if you want to fix any or all of the problems. The free version can only scan your PC and display the results. We believe that you are much better off investing in a proper malware removal application if you want to do good for your computer. But now, you should remove AutoClean Pro 2018.
Since this PUP leaves some leftovers on your system after you run its uninstaller via Control Panel, we have prepared the necessary instructions for you below. Please follow this easy steps carefully for best results. Do not forget that there could be other and more dangerous threats on your system. If you do not know how to eliminate them manually, you should probably install a reliable anti-malware program, such as SpyHunter, and start enjoying peace of mind while going online protected.
Remove AutoClean Pro 2018 from Windows
Windows XP
Click the Start button and select Control Panel.
Click Add or Remove Programs.
Select the application and press Remove.
Windows Vista, Windows 7, Windows 8, Windows 8.1, and Windows 10
Press Win+R and enter control panel. Click OK.
Pick Uninstall a program.
Select the application and press Uninstall.
Remove leftovers from your system
Press Win+R and enter regedit. Click OK.
Delete the following registry keys:
HKEY_LOCAL_MACHINE\SOFTWARE\QXV0b0NsZWFuUHJvLTIwMTg=
HKEY_LOCAL_MACHINE\SOFTWARE\scd-pr
Exit your editor.
Press Win+E.
Delete the "%PROGRAMFILES%\AutoCleanPro-2018" folder. (Or anything very similar to that.)
Empty your Recycle Bin and reboot your system.
In non-techie terms:
AutoClean Pro 2018 is just another useless program that claims to make your PC run faster. But our researchers have found that it simply works like most other PC optimizers that have very similar claims and fail to actually deliver. This potentially unwanted program scans your system and displays a list of threats, which may actually contain hundreds of false results. Most of the hits are useless temporary files and unused registry keys. So even if removed all these, your computer would not be any faster really; not visibly most likely. We believe that most of these scan results serve only one purpose: To push you to buy the premium version for $23.95. We do not believe that this low-quality software is worth any money, so we recommend that you remove AutoClean Pro 2018 and clean your PC of all other possible threats as well. If you want proper protection, you may want to install a decent anti-malware program right now.