Do you know what Auto PC Cleaner 2019 is?
If you have downloaded Auto PC Cleaner 2019 willingly, you must have been convinced that this app could clean your Windows Registry and Startup, as well as remove browser adware and add-ons. The program is officially introduced to Windows users as an "award-wining PC protection" tool. Unfortunately, the tool is completely useless, and if you install it, you will be pushed to pay money for its services, and that would be a mistake. Although the program is, allegedly, trusted by millions, and it should optimize and clean your operating system for a better performance, by paying money for its services, you would be wasting your money. Needless to say, we recommend that you remove Auto PC Cleaner 2019 immediately. If you have no idea how to eliminate this program from your PC, continue reading.
You might have downloaded Auto PC Cleaner 2019 from usadvanceutil.club, which is the program's official website. However, it is also possible that you have downloaded the program using a third-party installer, and the PUP (potentially unwanted program) might have been bundled with something else. If you do not have experience in identifying malware or useless programs, go ahead and install a trusted malware scanner. It will quickly examine your operating system and let you know if you need to delete anything malicious or unreliable. We have the exact same advice for the users of Power Speedup 2018, Power Cleaner 2018, Win Speedup 2018, and many other seemingly legitimate apps that we identify as fake optimizers. Just like Auto PC Cleaner 2019, they all deserve removal. Unfortunately, they all look like normal, trustworthy programs, and they all use special tactics to convince users that they are important.
If you let Auto PC Cleaner 2019 in, it will install itself into %PROGRAMFILES% or %PROGRAMFILES(x86)%, and then it will start a system scan. Once that is done, the program might introduce you to a great number of "potentially unwanted items" that, allegedly, require removal or repair. However, if you click the 'Start Repair' button, you will be routed to a purchase page. It is not a secret that Auto PC Cleaner 2019 is not a free tool; however, some users might be confused. The purchase of the full version is quite confusing as well. Our research team has faced a number of different prices. For example, at one point, the program cost €29.95, but then it was offered for €14.97 at the end. At the time of research, the program's price was set at €23.95, and that, allegedly, was discounted from €33.95. This is a discrepancy that cannot be ignored. Overall, regardless of the price, the PUP is not worth your money. Hopefully, you have not paid yet, and you can still delete the program without a loss.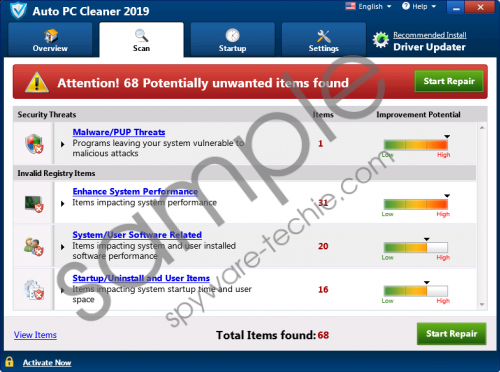 Auto PC Cleaner 2019 screenshot
Scroll down for full removal instructions
It is strongly recommended that you delete Auto PC Cleaner 2019 from the Windows operating system. This program might appear to be legitimate and useful, but, in fact, it is not reliable or useful, and the best it can do is erase a few temp files or registry entries, all of which you should be able to do on your own with guidance. The removal of the PUP should not be complicated, unless other threats exist. If they do not, follow the instructions below. If threats are found, consider employing anti-malware software. If you are hesitant to install anything new, just do your research, and you will find the right tool for you.
Remove Auto PC Cleaner 2019
Open the Control Panel (access via the Start/Windows menu on the Taskbar or, if you use Windows 10, find it using the search in the Settings menu).
Open the Uninstall a program/Add or Remove Programs menu.
Uninstall/Remove the undesirable application.
Install a trusted malware scanner to check if you have cleared your operating system from all threats.
In non-techie terms:
Although Auto PC Cleaner 2019 is supposed to be this wonderful tool, it is pretty useless, and that is why it is recognized as a potentially unwanted program. Once it scans your system, it lists a number of issues, and then it asks to pay for their removal/repair. The thing is that the issues are not as dramatic as they might appear to be, and your system is unlikely to be safer or run better if you delete/repair them. PUPs like this one are not worth investing in, and we suggest that you get rid of it immediately. Our recommendation is that you invest in software that can be useful, and anti-malware software can be very useful. First of all, it would automatically delete Auto PC Cleaner 2019 along with other threats. Furthermore, it would protect you against PUPs and malware in the future, and reliable protection is of the utmost importance.