Do you know what Aurora Ransomware is?
Aurora Ransomware enters the system without asking any permission and is a malicious application used for money extortion. Users should always keep it in mind when dealing with such threats, especially while reading the provided ransom note. The cybercriminals who wrote the note shown by Aurora Ransomware might sound as if they are trying to help the user. However, you should not let this friendly tone trick you. It could have been your carelessness that got the system infected, but it does not change the fact these hackers are to blame for ruining your data. Moreover, users should understand while the malicious application's developers might advise the user how not to get scammed, there is no guarantee these people will not trick you either. They may not bother to send the needed decryption tools or could ask for even more money if the user pays the ransom. Therefore, instead of putting your money at risk we would advise you to eliminate this malware. For more information, you should keep reading the article and review the removal guide available below the main text.
According to our computer security specialists, Aurora Ransomware might enter the system with Spam emails or through unsecured RDP (Remote Desktop Protocol) connections. Meaning, the malware could infect the system if the user opens some suspicious file or if he does not take care of his computer's weaknesses, e.g., weak passwords, out-dated software, and so on. Naturally, to maintain the system secure and stay away from threats alike it would be highly advisable to remove all possible vulnerabilities and keep away from data that might be dangerous or originates from potentially malicious sources.
Provided, Aurora Ransomware manages to get in the malware should immediately begin encrypting all valuable or personal user's files with a secure encryption algorithm. It is when the data should be marked with an additional .Aurora extension. What it is important to know is erasing the extension will not decrypt the locked files, so there is no point in doing so. Nonetheless, we would not recommend putting up with any demands either. As you see after the encryption process is over the malicious application should create a few text documents with instructions on how to decrypt files or in other words with ransom notes. Such messages may state no one else can help the user except for the cybercriminals behind Aurora Ransomware, but as we said earlier, it is possible these people could trick you just as well. They ask for a payment of around 100 US dollars, but who can promise they will not ask for even more money later on or take the paid ransom and ignore the victim?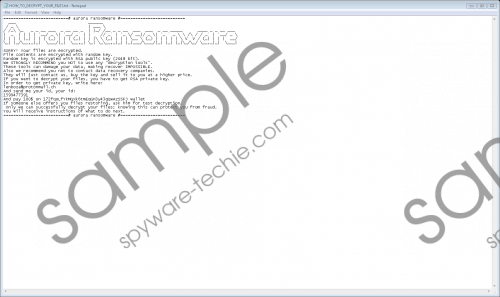 Aurora Ransomware screenshot
Scroll down for full removal instructions
If you do not believe the hackers who created Aurora Ransomware can be trusted either, we recommend not to risk your savings and eliminate the infection right away. To locate its data and get rid of it manually you could follow the instructions available at the end of this text. On the other hand, if the process seems too complicated, users could install a reputable antimalware tool and perform a full system scan. Then wait for the scanning to be over and press the provided deletion button.
Erase Aurora Ransomware
Click Ctrl+Alt+Delete simultaneously.
Pick Task Manager.
Take a look at the Processes tab.
Locate a process belonging to this malicious program.
Select this process and press the End Task button.
Click Windows Key+E.
Navigate to the suggested paths:
%TEMP%
%USERPROFILE%Desktop
%USERPROFILE%Downloads
Find a file that was opened when the system got infected.
Right-click the malicious file and select Delete.
Look for files named HOW_TO_DECRYPT_YOUR_FILES.txt, HOW_TO_DECRYPT_YOUR_FILES2.txt, and so on.
Right-click them separately and select Delete.
Leave File Explorer.
Empty Recycle bin.
Restart the computer.
In non-techie terms:
Aurora Ransomware is a malicious threat that encrypts user's files and then displays a ransom note claiming the user has to pay around 100 US dollars to get needed decryption tools. The note is also full of warnings and bits of advice saying not to trust anyone else and not to look for other ways to decrypt locked files. The truth is users who have backup copies do not even have to worry about it. If your backup copies are safe on cloud storage or some removable media device all there is left to do is clean up the computer from this infection and replace encrypted files with copies. As for its decryption, it is true; it might be impossible without the decryption tools from the cybercriminals who created the malware. The problem is there are no guarantees they will not scam you either or attempt to extort more money from you. Thus, if you do not want to risk losing your money in vain, there might be nothing else to do but to get rid of the infection and learn from this experience by deciding on how to back up your future data. To delete the malware manually look at the removal guide available above or install a reputable antimalware tool of your choice.