Do you know what Attentive Antivirus is?
If you are constantly receiving pesky pop-up alerts encouraging you to active Attentive Antivirus, it means that your computer is infected with a very dangerous rogue anti-virus program. The fake security tool is installed without the user's permission while browsing phishing websites, after downloading insecure spam email attachments, and in many other ways of social engineering. Attentive Antivirus falls into the category of scareware as the only objective of this threat is to obtain your money.
Attentive Antivirus is also categorized as a threat that belongs to the Rogue.WinWebSec family. The rogue programs that belong to this malware group are System Care Antivirus, Professional AVASoft Antivirus, Disk Antivirus Professional and some others. If you are already familiar with one the malicious programs detected earlier, you are probably aware of how Attentive Antivirus can impair the overall performance of the PC.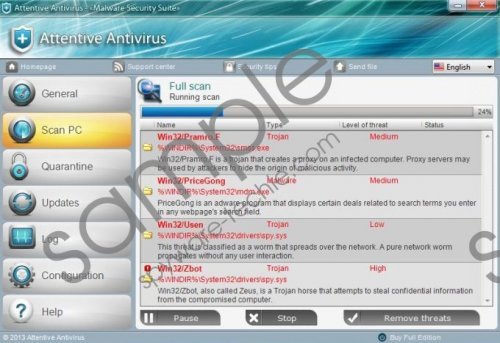 Attentive Antivirus screenshot
Scroll down for full removal instructions
Needless to say, the fake anti-virus program in question will imitate system scans, which provide you with non-existent computer infections. Moreover, the unwanted application display misleading security alerts. For example, it can inform you that your Task Manager is infected and that it is suspended. In order to be able to use it, you are expected to active Attentive Antivirus in order to be able to remove all the threats that are supposedly detected. Do not do anything that is offered by the infection as the only threat is the rogue program itself.
Moreover, you may come across a simulated Windows Security Center notification informing you about the need to activate Attentive Antivirus:
Unless Attentive Antivirus is activated, some of the current critical threats will not be eliminated and your computer will remain unprotected. Are you sure you would like to proceed unprotected?
However, fake pop-up security alerts are not the only sign indicating the presence of the malicious application. You will also find that the rogue program attempts to restrain you from browsing the Internet. When trying to use Internet Explorer, you will find a message saying that you the web page you are going to browse may pose some danger to your computer and your privacy. It is done so in order to prevent you from downloading a spyware removal tool, which, in fact, is all that you need to get rid of fake scans and warnings.
There are hundreds of programs that pretend to be able to scan the PC and remove various computer infections, and before investing into one, you should make sure that it is safe, especially if it has been installed without our approval. Attentive Antivirus cannot be trusted, and the sooner you remove it from the PC, the sooner you can use the PC and browse the Internet without being disturbed by various malfunctions of the system.
We recommend using SpyHunter as this application can remove ransomware, spyware, malware, various rootkit Trojans, and many other threats. It requires minimal interaction, which means that it will scan the PC automatically. In case of any threat, you will be instantly informed about the actions carried out by the software.
However, before you download and install our recommended spyware, try using one of the following activation keys. The activation of the rogue program should disable the obtrusive alerts, so do not wait and take immediate actions to get rid of Attentive Antivirus.
AF03E-A1B69411-5E496BEE-92A70D00-1AD697F6
AA39754E-715219CE
Having registered the software, install our recommend spyware removal.
In non-techie terms:
Attentive Antivirus is a vicious computer infection which you should remove from the PC as soon as you can. It is a Trojan infection which gets access to the PC via the vulnerabilities of the system, so it is crucial that you prove the machine with the maximum protection once you get rid of the threat. As for the removal, it should be performed by a reputable spyware removal tool which is also capable to secure you against other computer threats.
Aliases: Attentive Antivirus Virus.