Do you know what AslaHora Ransomware is?
Our malware analysts have recently found and tested a ransomware-type application called AslaHora Ransomware that is also called Malki Ransomware. This ransomware is nothing special about this ransomware apart from the fact that it does not ask you to pay a ransom, but you need to remove it regardless. If your PC becomes infected with it, then you probably will not be able to get some of your files back, because it encrypts them. Also, this program has been configured to lock your computer and prevent you from using it entirely. This program may still be in development and was released for testing purposes only. However, what the developers want to gain from this is anyone's guess as they do not offer a decryption key.
According to our researchers, Malki Ransomware infects a computer and locks it immediately. You can distinguish this ransomware from other ones because it puts a blue screen on top of the desktop with that at the top saying ""ENTER UNLOCK CODE GIVEN BY MALKI!!!" Furthermore, AslaHora Ransomware disables Windows Explorer, so you will have to launch it manually after deleting this ransomware.
Researchers say that this ransomware was configured to target file formats that hold documents and images or pictures. Clearly, this ransomware is after valuable and sensitive information that may be important to you. It appends the encrypted files with a ".malki" extension, not that you can see it, but it does that regardless. Once the encryption is complete, it will not ask for money like most ransomware-type programs do. Because it does not ask for money, we assume that this program is half finished and was released for testing purposes only.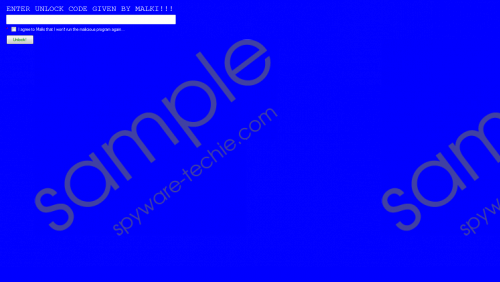 AslaHora Ransomware screenshot
Scroll down for full removal instructions
The sample tested by our malware researchers revealed that you can unlock the PC by entering MALKIMALKIMALKI in the code line and clicking the Unlock! button. Unfortunately, it will not decrypt your files, so they are bound to remain encrypted indefinitely. Cyber security experts may develop a free decryptor, but it is always possible that that will not happen.
As far as this program's distribution methods, go there is next to no information about this. Our malware analysts say that its developers may use exploit kits such as the Angler Exploit kit that is imbedded into an infected website and set to infect your PC when you interact with Flash or Java content featured on that site. Therefore, AslaHora Ransomware's main file can be named randomly and dropped anywhere on your PC. It is also possible that its developers have set up a scheme to distribute it via email spam. They may send this ransomware included in malicious emails. The executable file may be disguised as an MS word or PDF file using a double extension. If you open the attached file and you do not have an antimalware program to stop it, then the game is up.
AslaHora Ransomware is a rather odd program because it can encrypt your files and lock the PC, but will not drop a ransom note. It developers released this program unfinished, it would seem, because they do not ask you to pay a ransom. Unfortunately, there is no free decryption tool as well, so your files can remain encrypted indefinitely. You just have to wait and see if the cyber security industry will be willing and able to develop a free decryption tool. In the meantime, you have to remove AslaHora Ransomware to continue using your PC, we have included a manual removal guide that involves using SpyHunter's free scanner to detect the main executable file.
Removal Guide
Type MALKIMALKIMALKI in the code line.
Click Unlock!
Press Ctrl+Alt+Delete and select Start Task Manager.
Click File and click New Task (Run…)
Type explorer.exe in the box and hit Enter.
Open your browser.
Go to http://www.spyware-techie.com/download-sph
Download SpyHunter-Installer.exe.
Install the program and run it.
Click Scan Computer Now!
Copy the file path of the malware from the scan results.
Press Windows+E keys.
Enter the file path of the malware in File Explorer's address box.
Press Enter.
Locate, right-click the malicious files and click Delete.
Empty the Recycle Bin.
In non-techie terms:
AslaHora Ransomware is a program that can encrypt your files and render them useless. It can also lock your PC and deny you access to it entirely. However, it creators do not demand that you pay money to get your files back, so it is possible that the current version of this ransomware has been released for testing purposes. In any case, you ought to remove it if you want to use your computer again.