Do you know what Arisedsore.info is?
Arisedsore.info is an adware server. You cannot visit it like a normal website because it is not a normal website. The main purpose of this adware server is to introduce online surfers to various advertisements, offers, installers, and notifications. If you are redirected to any of the pages represented by this server, you might be able to close the browser and forget about the incident completely. Of course, if you keep getting redirected to ad pages, you have to consider the possibility that adware exists and that you need to delete it from your operating system. On the other hand, if you have enabled notifications introduced by this adware server, you might have nothing to delete but ads keep showing up. In that case, you need to remove Arisedsore.info notifications, and you can learn how to do that by reading this guide.
According to our researchers, Arisedsore.info is almost identical to Edhappearer.info, Welsworn.info, or Mbsimedia.com, all of which are adware servers that we have discussed in previous reports. While we cannot link any specific extensions or programs to these servers, there is a good chance that extensions or programs installed on your computer and browsers are redirecting you to Arisedsore.info pages. If that is the case, it should be enough to remove these extensions and programs to get rid of the annoying ads. Should you have trouble identifying malware, do not hesitate to install a trusted malware scanner. It will automatically inspect every corner within your operating system to check if there is anything to remove. If there is nothing to remove, and if you landed on a suspicious ad page once, perhaps that was an accident. To avoid such accidents, you should avoid unreliable and unfamiliar websites in the future.
If you remember enabling notifications by Arisedsore.info, you will see ads regardless of what sites you visit. In fact, some ads might show up on the Desktop. The good news is that you can disable notifications to get rid of the annoying ads. Perhaps it is not clear why that is necessary. First and foremost, you might be irritated by a constant flow of ads, which is a good enough reason to want to disable them. More importantly, of course, advertisements pushed by adware servers like Arisedsore.info are unlikely to be trustworthy, and if you interact with them, you could end up visiting unreliable websites or even facing scams and malware installers. To put it simply, your virtual security might depend on you disabling these suspicious notifications. Luckily, deleting Arisedsore.info notifications should not be difficult.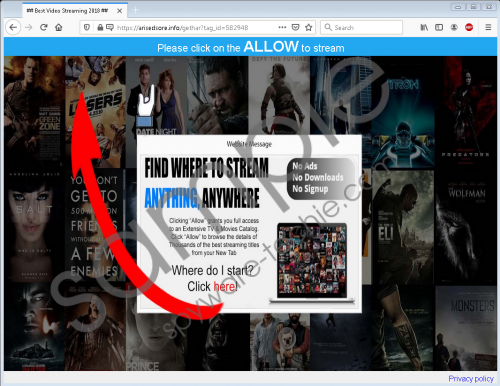 Arisedsore.info screenshot
Scroll down for full removal instructions
The guide below explains how to delete/disable notifications on Mozilla Firefox, Google Chrome, and Microsoft Edge browsers. If you need help removing Arisedsore.info notifications from any other browser, please let us know in the comments section, and we will assist you shortly. Once you do that, we recommend scanning your entire operating system. You might find nothing malicious, but you want to be sure of it. In the future, you also need to be careful about what notifications you enable. Even though authentic and trustworthy sources now use notifications, that does not mean that you should accept every single request to show you notifications. The fewer you receive, the safer you will be in the long run.
Remove Arisedsore.info notifications
Mozilla Firefox
Open the browser.
Enter about:preferences#privacy into the address bar.
In the Privacy & Security menu, go to Permissions.
Go to Notifications and click Settings.
Select the website whose notifications you want to stop.
Click Remove Website to disable notifications.
Google Chrome
Open the browser.
Enter chrome://settings/content/notifications into the address bar.
In the Notifications menu, identify the website whose notifications you want to stop.
Click the More actions button on the right and click Remove.
Microsoft Edge
Open the browser.
Open the Edge menu at the top (three dots icon).
Click Settings and then click Advanced on the left.
Go to Website Permissions and click Manage Permissions.
Find the website whose notifications you want to stop.
Use the toggle to disable notifications.
In non-techie terms:
If you have enabled notifications by Arisedsore.info, you might have been flooded with suspicious ads, offers, and installers of unknown extensions and programs. Hopefully, you have not interacted with anything that this adware server might have introduced you with because that, potentially, could be very risky. If you have downloaded add-ons or software, shared personal information, or purchased anything through the notifications shown by the adware server, make sure you are being cautious. If there is anything malicious to remove from your operating system, you should implement anti-malware software. If all you need to do is delete Arisedsore.info notifications, it should be enough for you to follow the guide above. Also, if there is anything you would like to discuss with our research team, post a comment below.