Do you know what ArcadeTwist is?
ArcadeTwist is recognized as a potentially unwanted program because it acts in a surprising manner. This PUP is supposed to help you manage online games promoted at arcadetwist.com, but our research team found that this program can also showcase online advertisements. This is considered to be surprising, because users do not install ArcadeTwist knowing that it will inject ads. If you want to stop these advertisements, you must remove this potentially unwanted program from your PC. Continue reading to find the tips that will help you delete ArcadeTwist from your operating system.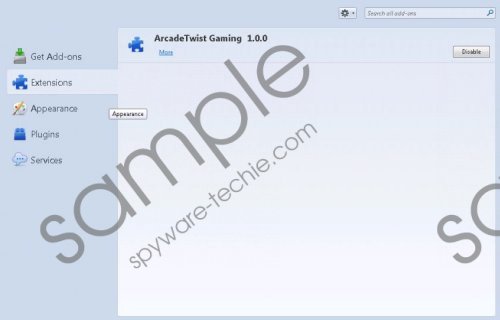 ArcadeTwist screenshot
Scroll down for full removal instructions
According to our research, ArcadeTwist and its clones (e.g., ArcadeCake and ArcadeGiant) can travel bundled with malicious software. As you might know, malicious computer infections can enter your PC silently, which means that you might have to remove malware that you do not even notice! Of course, if you have downloaded ArcadeTwist from arcadetwist.com it is unlikely that you will have to worry about the removal of any other threats, but you still should inspect your Windows operating system with a trusted malware scanner. If malicious infections are found, make sure you delete all of them. Most importantly, do not just assume that your PC is clean just because you do not notice malicious activity. If you fail to remove ArcadeTwist or any of the associated infections, your virtual security could be put at risk. Note that the online advertisements presented to you can be identified as a threat as well.
If you postpone the removal of ArcadeTwist, the unreliable advertisements might keep appearing on the websites you browse. If you are not cautious, these ads might put your virtual security at risk, which is why we believe you should remove ArcadeTwist from your PC right away. Follow our concise manual removal guide to delete this PUP from your Windows operating system and the most popular browsers. To delete the remaining threats, install an automated malware remover that will get rid of malicious programs and protect your PC all at the same time.
Remove ArcadeTwist
Remove from Windows XP:
Click the Start button on the Taskbar to open the Start menu.
Double-click Add or Remove Programs.
Select the unwanted application and click the Remove button.
Remove from Windows Vista and Windows 7:
Navigate to the left of the Taskbar and click the Windows icon.
Select Control Panel and click Uninstall a program.
Right-click the program you wish to delete and select Uninstall.
Remove from Windows 8 and Windows 8.1:
Click the Search icon on the Charm bar and enter Uninstall a program.
Open the utility and find the undesirable ArcadeTwist.
Right-click the program you wish to delete and select Uninstall.
Remove from Internet Explorer:
Open IE and simultaneously tap Alt+T.
Select Manage Add-ons and move to Toolbars and Extensions.
Disable the undesirable add-on and click Close.
Remove from Google Chrome:
Open Chrome and simultaneously tap Alt+F.
Move to More tools, click Extensions, and find the undesirable add-on.
Click the recycle bin on the right and choose Remove.
Remove from Mozilla Firefox:
Open Firefox and simultaneously tap Ctrl+Shift+A.
Select Extensions (in the Add-ons Manager menu).
Identify the undesirable add-on and click the Remove button on its right.
In non-techie terms:
Even though ArcadeTwist can be helpful in some cases, we identify it as a potentially unwanted program that requires removal. If you follow the manual removal guide, do not forget to inspect your PC for any leftovers or other computer infections. Do not start running your operating system in a normal manner until all malicious threats are deleted. We recommend removing ArcadeTwist and the associated threats using the assistance of automated malware removal software.