Do you know what ArcadeParlor is?
ArcadeParlor is an application that is promoted as an essential application if you wish to play premium games on arcadeparlor.com website. If you download the add-on, you will certainly gain access to the premium content of the website. Unfortunately, there is a hidden catch behind it. Numerous adverts will be presented by the ArcadeParlor adware program, making surfing the web an extremely annoying experience. And if that was not enough to convince you to remove ArcadeParlor once it is discovered on your PC, you should also know that this adware program might also be the reason your system could be accessed easily by other potentially malicious applications. The only rational thing that should be done about ArcadeParlor is its removal, as the negative traits obliviously outweigh the beneficial ones. Malware experts at Spyware-Techie.com have crafted a removal guide that is easy to use, and you will be able to delete ArcadeParlor in no time.
There are a few ways that ArcadeParlor could enter your operating system. Some users might download the dubious application consciously, due to the misleading marketing strategies employed by the publishers of this application. Another way you can get your operating system infected with ArcadeParlor is via software bundles. Numerous third-party download websites promote installers filled with questionable applications. Avoid such websites, as it is your best bet to reduce the risk of infecting your system with ArcadeParlor or any other suspicious application. Furthermore, if you want to keep your system protected at a maximum level, you should install a reliable antimalware tool for that specific purpose.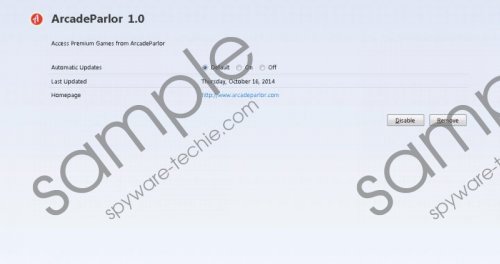 ArcadeParlor screenshot
Scroll down for full removal instructions
Once ArcadeParlor enters your operating system, you will notice that your browser will be implemented with ArcadeParlor browser extensions. These extensions are used by the adware application to display third-party commercial adverts. These adverts are extremely annoying and will actually make playing those premium games almost impossible. To make matters worse, it has to be noted that ArcadeParlor could expose your system to other dubious applications. An advert provided by this adware could contain a redirect link, possibly sending you to a website that promotes suspicious software. This possible exposure to questionable web content is extremely dangerous, and it should be obvious to every computer user that ArcadeParlor must be removed.
Considering all that was said about ArcadeParlor, it is quite natural that the only thing that should be done about this invasive application is its complete removal. That way you will be able to maintain your operating system clean and secure. Use the removal guide that we provide below, as it will aid you in deleting this invasive application without encountering any problems.
How to get rid of ArcadeParlor
Remove ArcadeParlor from Windows 7 and Windows Vista
Tap the Windows button and select Control Panel.
Select Uninstall a program.
Select ArcadeParlor and click Uninstall.
Remove ArcadeParlor from Windows 8
Tap the Windows+Q keys on your keyboard.
Type Control Panel into the search box.
Tap Enter.
Select Uninstall a program.
Double-click ArcadeParlor.
Click Yes to confirm you want to remove ArcadeParlor.
Remove ArcadeParlor from Windows XP
Click the Start button.
Click Control Panel.
Select Uninstall a program.
Select ArcadeParlor and click Remove.
In non-techie terms:
Manual removal might not be suitable for all users. If you think that manual removal is not for you, please follow the removal instructions below and delete ArcadeParlor.