Do you know what Arcade Candy ads are?
Arcade Candy ads will pop on your screen if you get the ArcadeCandy Games installed on your computer. These commercial advertisements are generated by the freeware gaming application. Our research lab team says that this program is an older adware application that is associated with Arcade Safari. There are particular files that are common for both of these programs. Adware programs are annoying pieces of software that might eventually lead to the ultimate system downfall. If you want to avoid that, you should remove Arcade Candy ads and everything related to them from your system at once.
The program itself has an official website that you can access via arcadecandy.com. If you open the website, you will see a pop-up message that offers you to play premium games for free. The games support Google Chrome, Mozilla Firefox, and the Internet Explorer browsers. There is also an application that should help you play the said games on your computer, but it does not seem like the promotion of the program itself is explicit. In fact, we believe that it is far more likely for the users to download this application in freeware packages.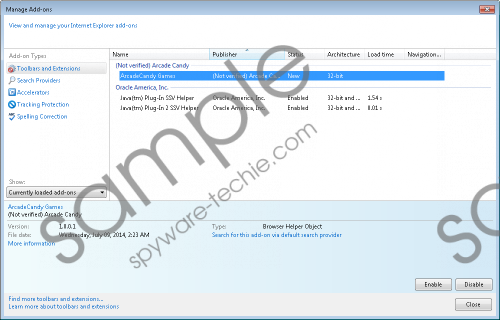 Arcade Candy ads screenshot
Scroll down for full removal instructions
Freeware packages are widely available for download at file-sharing and torrent websites. Sometimes you may download some program willingly, without realizing that it comes with additional applications you neither need nor want. In some cases, users initiate freeware downloads accidentally when they click fake download buttons on file sharing websites, too. The bottom line is that it might be possible to avoid such adware programs if you did not indulge in freeware downloading on a regular basis. What's more, if Arcade Candy is running on your system, it means that you have more unwanted applications on board as well. To determine which programs should be removed from your computer, you should scan it with a licensed antispyware application.
Why should you be wary of Arcade Candy ads? You might say that adware programs are not malicious threats, and nothing would go wrong if you simply ignored them. Albeit that is partially true, you have to remember HOW Arcade Candy ads appear on your screen. To display those ads, the program employs tracking cookies to monitor your browsing activities. They do not log the key strokes and cannot really steal your personal information, but once the adware program knows your web browsing patterns, it can generate customized commercial advertisements. Since the advertisements would be related to your likes and preferences, there would be a higher chance you would click them.
However, no matter how compelled you feel to click Arcade Candy ads, you should refrain from doing that. The application may not aim for it, but it is possible that some of the ads could be embedded with corrupted content that could eventually lead to a severe computer infection. Thus, it would be in your best interests to remove Arcade Candy ads from your computer as soon as possible.
Please follow the instructions below to get rid of the application that generates Arcade Candy ads. Once again, do not forget to terminate all the additional programs that might cause computer security issues. If you cannot tell which programs might be potential threats, scan your PC with the SpyHunter free scanner.
How to Remove Arcade Candy ads
Windows 10
Right-click the Windows icon.
Select Control Panel on the drop-down menu.
Open Uninstall a program and remove ArcadeCandy Games.
Windows Vista & Windows 7
Open the Start menu and go to Control Uninstall.
Click Uninstall a program and remove ArcadeCandy Games.
Windows 8 & Windows 8.1
Move the mouse cursor to the bottom right of your screen.
When the Charm bar appears, click Settings and go to Control Panel.
Click Uninstall a program and remove ArcadeCandy Games.
Windows XP
Open the Start menu and navigate to Control Panel.
Select Add or remove programs and uninstall ArcadeCandy Games.
In non-techie terms:
Arcade Candy ads will not allow you to browse the Internet properly because they will flood your browser each time you access a supported website. It is for the best to remove Arcade Candy ads and all the associated applications from your computer immediately. You need to take your computer's security into your hands and make sure your PC is protected from similar intruders in the future. Do not forget to invest in a powerful computer security tool if need be.