Do you know what Apps Hat is?
Apps Hat is a potentially unwanted program that can enter your computer in more than just one day. It is an adware application and it means that this application displays a lot of commercial advertisements that are embedded within the program. Technically, that should not be the main Apps Hat's function, but it seems to be one of the programs that display coupons and various discount offers that should help you save money on online purchases. Nevertheless, it is strongly recommended to remove Apps Hat from the PC to avoid any potential security threats.
The main website for Apps Hat can be accessed at appshat.com. The application is presented as a new application that is intended for Android devices. It is a plug-in that is supposed to help you "discover new apps, both free and discounted". To put it simply, Apps Hat functions as a browser helper object that collects information on your web browsing habits, processes it and then provides you with various offers that should be related to your overall likes and preferences. The application gets installed on your default browser as a browser extension, although direct download is not the only way to acquire Apps Hat.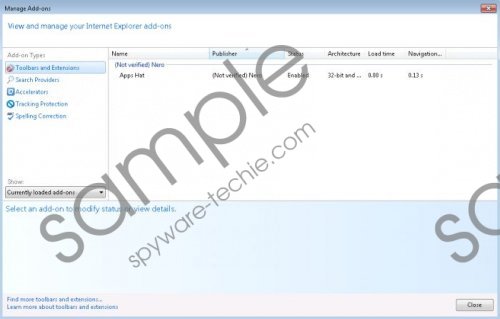 Apps Hat screenshot
Scroll down for full removal instructions
This application is also known to travel bundled with FLV Player. If you are not attentive enough during FLV Player or any other freeware installation process, you may install Apps Hat onto your PC accidentally. It should be pointed out that Apps Hat is not a malicious computer infection. After all, it does not enter the system surreptitiously, and users initiate the installation themselves. However, due to the fact that Apps Hat is an adware application, any security-minded user would want the application off his/her computer.
At first Apps Hat may seem like an annoying application that displays a lot of unwanted commercial pop-ups, but these pop-ups are your main security concern. The pop-up ads can be embedded with potentially corrupted third party content. Apps Hat cannot be held responsible for the safety of third party content, because it is not covered by its privacy policy. In case you click an outgoing link to a corrupted website via Apps Hat pop-ups, you could be exposed to shady marketing schemes that aim at swindling you out of your money.
Apps Hat does not post any direct threat to your system security, but you should definitely uninstall the application from the PC, because it is not safe to keep it. At the same time remove all the other related applications, and then scan the PC with SpyHunter free scanner to make sure that there are no other unwanted programs left.
Manual Apps Hat Removal
Windows 8
Move mouse cursor to the bottom right of the screen.
Click Settings on Charm bar and go to Control Panel.
Select Uninstall a program and remove Apps Hat.
Windows Vista & Windows 7
Open Start menu and go to Control Panel.
Click Uninstall a program and remove Apps Hat.
Windows XP
Open Start menu and navigate to Control Panel.
Select Add or remove programs and uninstall Apps Hat.
If you need any help with Apps Hat's removal, please do not hesitate to leave me a comment.
In non-techie terms:
Apps Hat is an adware application that generates a lot of pop-up advertisements. They can slow down your Internet browser and expose you to potentially dangerous content, so it is for the best to remove Apps Hat from your computer.
Aliases: AppsHat.