Do you know what Appround.net is?
Appround.net is a website which promotes PC Performer and which is also known as a browser hijacker. If you have downloaded and installed some application and have just found that your home page is no longer your preferred website but Appround.net, ignore it. Ignore the content of this page because the program which you are urged to install can cause you a lot of trouble.
According to Appround.net, the application promoted is a defragmentation tool which is said to be able to delete junk files, tweak various Windows settings, fix invalid shortcuts, remove unnecessary Start Up programs, and so on. It has been found that instead of helping users solve system performance related issues, the application seems to cause more unwanted malfunctions. The system starts running sluggishly, and the user is provided with various non-existent system errors which are said to be fixed only when the program is registered.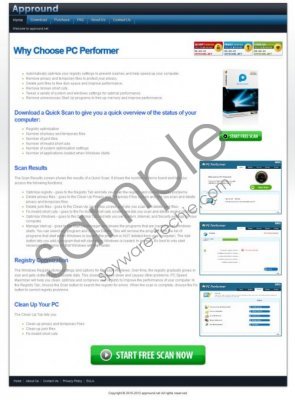 Appround.net screenshot
Scroll down for full removal instructions
Ignore all the pop-up advertisements that you encounter while using Internet Explorer, Google Chrome and Mozilla Firefox. Moreover, if you have installed the application that is being promoted, ignore its scans and alerts as the application is a scam. What you should also do is remove the threat from the system as soon as possible.
In order to open the same website whenever you launch your browsing tool, the malicious application that is installed without your approval, alters the Windows Hosts file which has to be fixed in order to put an end to the redirection. Appround.net can also be installed as a browser add-on alongside some freeware but this does not prove that you can trust the website. In either case, if you do not want your home page and new tabs load as Appround.net, take immediate actions to get rid of it.
Below you will find instructions which will help you edit the Windows Host file and reset the browsers. Afterwards, scan the computer in order to make sure that your operating system does not contain any malicious components that can have a negative effect on the system's performance.
Appround.net removal
How to edit the Windows hosts file
Go to the Start menu.
Search for and right-click Notepad.
Select Run as administrator.
Go to My Computer.
Follow the path C:\Windows\system32\drivers\etc.
Open the hosts file in Notepad.
If there are any lines below 127.0.0.1 localhost or ::1, remove them and save changes.
Reset Internet Explorer, Google Chrome and Mozilla Firefox
Internet Explorer
Press Alt+T.
Click Internet Options.
Click the Advanced tab.
Click Reset.
Select the check box given.
Click Reset and then Close.
Mozilla Firefox
Press Alt+H.
Click Troubleshooting Information.
Click Reset Firefox - > Reset Firefox - > Finish.
Google Chrome
Press Alt+F.
Select Tools -> Extensions.
Remove the unwanted add-on.
Click Settings.
In the On startup section, click Set pages.
Change the startup page.
In the Search section, click Manage search engines and change the search provider.
If you find that the changes are insufficient or even if you have managed to remove Appround.net from the PC, do not hesitate to implement our free scanner. Click the button and download it so that you can be provided with the information on the condition of your PC.
In non-techie terms:
Appround.net is a website promoting a fake defragmentation tool which instead of performing useful functions attempt to deceive inexperienced computer users. If the website or browser hijacker in questions has become your home page and you do not know how to get rid of it, follow the instructions provided or implement SpyHunter which will remove the threat for you and safeguard the PC against future infections.
Aliases: Appround.