Do you know what Applon is?
Applon is a UK-based company which was founded in 2012. The company specializes in software developing and distribution and has created over 10 software programs for Windows operating system. A majority of Applon software programs are free of charge and are ad-supported, which means that, after installing some Applon program, the user is provided with third party advertisements. If you do not want to spend money on the products of Applon, you have to put up with the advertisements provided by the product. The products of Applon include Ziperfly, Photocel, pagealicious, Desktunes, Fix Clean Repair, Tiny Media Player, Smart Media Converter, and some other products. The clients of Applon can also acquire advertisement-free versions of Applon programs, as in the case with Fast Media Converter, which is available at fastmediaconverter.com.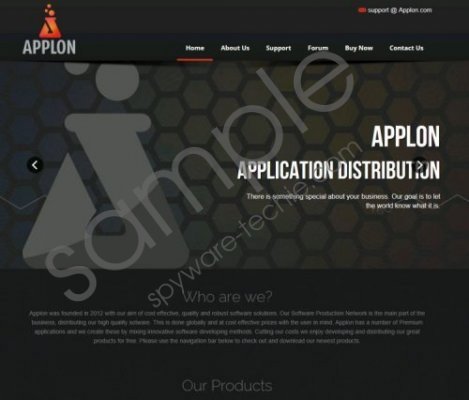 Applon screenshot
Scroll down for full removal instructions
The company's partners include various networks, survey analysts, and download service providers, which are said to be easily integrated with the freeware model of the company. One of programs of the company is called Apple Support, which is bundled with the products of Applon. The Applon Support is a browser plug-in which shows advertisement once in a while. In order to provide you with various advertisements, including web banners, pop-ups and sponsored links on the search engine results page and to determine your interests, the adware program records your search terms, clicks, impressions, and some other non-personally identifiable information. All those advertisements are the property of third parties, and if you want to prevent scam websites and other undesirable consequences, you should remove the Applon Support from your computer as soon as you can. By installing the Applon Support, you agree that your correspondence with third parties is you own responsibility and that Applet is not responsible for the goods and services advertised.
In order to remove the Applon Support browser add-on, we recommend using SpyHunter. This real-time security tool can easily eliminate the Applon Support so that you can use other Applon products without being provided with pop-up advertisements. Below you will find our step-by-step removal guide, which will help you uninstall any unwanted program, but do not hesitate to install the recommended security tool especially if your computer is not protected against malware and spyware programs.
How to remove Applon programs
Windows Vista and Windows 7
Click Start.
Select Control Panel.
Click Uninstall a program.
Remove the unwanted program.
Windows XP
Click Start.
Select the Control Panel option.
Click Select Add or Remove Programs.
Uninstall the unwanted Applon program.
Windows 8
Press Win+R and enter control panel.
Click OK.
Select Uninstall a program.
Remove the unwanted application.
In non-techie terms:
If you want to try out our recommended spyware and malware removal tool but have not managed to install it, use the following installation guide. Feel free to leave a comment below if you find any problems regarding the remove of the unwanted program.