Do you know what AppGo LiveSearch is?
AppGo LiveSearch falls under the classification of potentially unwanted programs, applications that could have undesirable functionality. Thus, we recommend learning more about it if you are considering its installation. We are not saying that it is malicious, but, as mentioned, the extension could have qualities that might be unwanted or irritate some users. Further, in this article, you can learn how this extension might work, how it could be spread, and how to erase it. If you want to delete AppGo LiveSearch manually, you could use our removal guide that is available below this article. You can also eliminate it with a reputable antimalware tool of your choice. You can also use our comments section if you have any questions about this potentially unwanted program or its deletion.
At first, we ought to talk about how this potentially unwanted program could be distributed. Our researchers say that the application was on the Chrome Web Store page when they were testing it, but it looks like the extension might have been removed from this platform as it is no longer there. Since the extension falls under the classification of potentially unwanted programs, it is possible that it could be distributed like other similar applications, for example, through pop-ups, ads, or bundled software installers. Thus, if you want to avoid such applications, we advise you not to download software from questionable sources. Plus, it is vital to research tools before downloading them. In other words, in addition to reading their descriptions, you should check who created your chosen tools, how they work, and what experts, as well as users, have to say about them.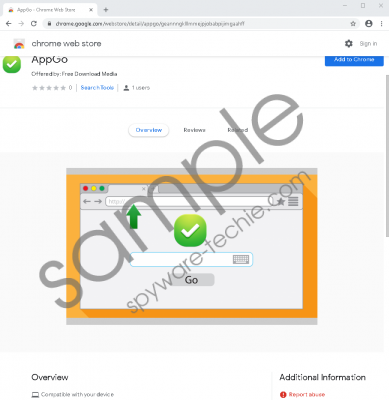 AppGo LiveSearch screenshot
Scroll down for full removal instructions
Furthermore, AppGo LiveSearch seems to be working only on Google Chrome. Also, our researchers found out that it might change a user's default search engine with a search website of its own. It could be called search-7.com/search.php?q, and it might redirect your search queries to a modified version of google.com. The results displayed by a modified version could be different from the ones displayed by an original google.com. For example, they could be injected with advertisements from the extension's this-party partners. In such a case, the ads might not be reliable as they could come from multiple unknown sources. For example, they could promote other potentially unwanted programs. If you do not want to risk coming across such content while you surf the Internet, you might want to use an unmodified google.com. If you do so, there might be no point in keeping AppGo LiveSearch on your browser. If you decide to erase it, there are a couple of ways to do so.
Users who want to delete AppGo LiveSearch could erase it directly from their browser's extensions menu. The task is not as complicated as it might sound, and if you need any help, we can offer our removal guide placed below. The other way to get rid of the potentially wanted program is to scan your system with a reputable antimalware too. After the scan, you should be able to eliminate AppGo LiveSearch by pressing the displayed deletion button.
Erase AppGo LiveSearch
Open Google Chrome.
Paste this link: chrome://extensions into the browser's address bar.
Press Enter and search for AppGo LiveSearch.
Click Remove and confirm that you want to remove the potentially unwanted program.
Exit the Extensions menu.
Restart your browser.
In non-techie terms:
AppGo LiveSearch is a browser extension that might have unwanted functionality. Consequently, it was classified as a potentially unwanted program. Some users might not like that the application could change their default search engine with a search tool that may redirect to a modified google.com version. Modified search results mean that they could be altered, for example, to inject them with ads that would not appear when using the original google.com search engine. We do not say that it will necessarily happen, but it is possible. If you do not like how this application works, you could erase AppGo LiveSearch from your browser. Currently, it works only on Google Chrome, and you can learn how to erase it from this browser by following the instructions available below. The other way to delete the potentially unwanted program is to use a reputable antimalware tool of your choice.