Do you know what AppEnable is?
AppEnable is an adware program that has been developed in order to help its creators make monetary profit. It is not a dangerous computer infection, but users are strongly recommended against using the application on a regular basis. Adware program may inadvertently expose you to potential security threats, so if you are security-minded user, you will remove AppEnable from your computer immediately. For a full manual removal guide, please scroll to the bottom of this description. For more detailed information on AppEnable, please keep on reading.
We would like to tell you a little bit about the origins of AppEnable adware application. We know exactly where it comes from because the program belongs to the SuperWeb family. This group consists of countless adware applications that occur here and there quite frequently. They usually have official homepages, but they are not functional. The same applies to AppEnable's website as well. AppEnable.info tries to make an impression that AppEnable is a genuine browser extension created to improve your overall web browsing experience, but that is not exactly the point.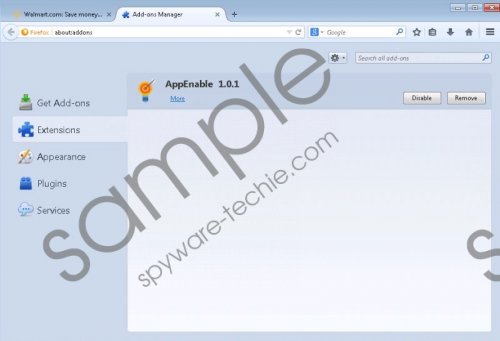 AppEnable screenshot
Scroll down for full removal instructions
It was not possible to download directly BrowseStudio, Better Enhance, Key Lime Lizard, and other adware programs from the same group. Hence, we can obviously tell that there is no direct download link for AppEnable as well. If you happen to have this application on your computer, you probably installed it along with a number of other adware programs that you downloaded at a third-party file sharing website. As you can see, it is practically impossible for AppEnable to enter your computer unless you allow it to.
Quite often, users don't even notice that they install AppEnable and other similar applications on their computers because these adware programs are not too conspicuous. However, you will definitely notice that something is off when AppEnable starts displaying multiple commercial offers.
Technically, AppEnable ads are supposed to help you get a hold of relevant information on your shopping or the most recent searches, but this adware application cannot guarantee that the content on its ads is completely secure. Some of the pop-ups might be embedded with outgoing links to adware-related websites, and if you are not careful enough, you might end up with even more potentially unwanted applications on your computer.
It would be in your best interests to remove AppEnable immediately. Uninstall the application via Control panel, and after manual removal scan your computer with SpyHunter free scanner. You need to make sure that all the potential threats have been eliminated, and your computer is protected against similar intruders.
How to remove AppEnable
Windows
Move mouse cursor to the bottom right of the screen.
Click Settings on Charm bar and go to Control panel.
Select Uninstall a program and remove AppEnable.
Windows Vista & Windows 7
Click Start menu button and go to Control Panel.
Select Uninstall a program and remove AppEnable.
Windows XP
Open Start menu and navigate to Control panel.
Access Add or remove programs and uninstall AppEnable.
In non-techie terms:
AppEnable is a program that displays a lot of annoying pop-ups when you browse the Internet. You need to terminate AppEnable as soon as you can because there is no need to keep an adware application on your system. You can use the instructions below for an alternative software removal method.