Do you know what Apogee Pc Pro is?
Apogee Pc Pro is advertised as a beneficial application that "scans, repairs & improves your PC." In other words, it is another PC optimization tool. We have to admit that it really looks useful at first glance. First, it promises to fix Windows Registry problems, prevent freezing and crashing, eliminate all active malicious applications from the system, speed up the Internet connection, delete clutter, and protect personal data. Unfortunately, it turns out after installing it that its free version works as a diagnostic tool only. In other words, the trial version of this tool only performs the system scan and finds issues that need to be fixed. Only its full version can improve your computer's performance. If you do not know anything about the installation of Apogee Pc Pro, it is very likely that you will not upgrade it as well. In such a case, we see no reason you should keep this program installed on your computer. Even though it is just a potentially unwanted program, its removal will not be very easy because it leaves some leftovers after uninstalling it via Control Panel, which means that you will need to eliminate them all yourself one by one. These files and registry keys it leaves on users' computers are one of the main reasons it is called a potentially unwanted program because decent applications can always be erased fully through Control Panel.
Once you install Apogee Pc Pro on your computer, it will scan your system right away. Research has shown that it is capable of finding minor issues, e.g. empty registry keys, cookies, and temporary Internet files. To tell you the truth, these items should not have a very negative impact on the overall system's performance; however, the free version of Apogee Pc Pro still cannot remove any of them. Users are told that they need to purchase the license of this tool to improve their computers' performance. We cannot promise that Apogee Pc Pro will be a very beneficial program after you upgrade it, so we suggest that you invest your money in the license of a more trustworthy application that does not fall into the potentially unwanted software category. The license of Apogee Pc Pro for one year costs 119.99 USD, which is quite expensive, and we are sure you could find a better program for a similar price.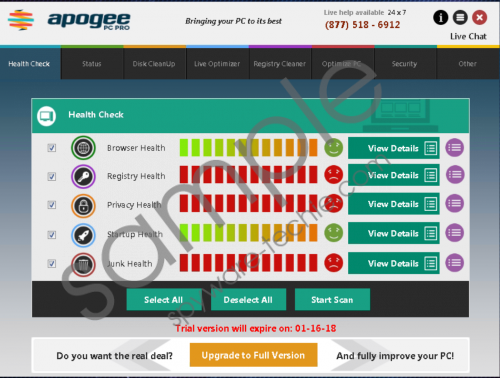 Apogee Pc Pro screenshot
Scroll down for full removal instructions
What else shows that Apogee Pc Pro is quite a suspicious program is that it does not have End User License Agreement and Privacy Policy documents. Also, its Live Chat option on its official website (http://apogeepcpro.com) does not work. It means that it is impossible to contact the customer support, and, on top of that, it might perform other activities it hides from users in the background. According to our researchers, it might hide the fact that it monitors users' browsing activity as well. It is up to you whether or not to keep this program installed, but if we were you, we would definitely remove it from the system.
There is one more reason Apogee Pc Pro has been classified as a potentially unwanted program. As mentioned in the previous paragraph, this program has an official website it can be downloaded from; however, not all users know why they have it installed on their computers and when this happened, which suggests that not all of them install it on their computers willingly themselves. Research has also clearly shown that it might be distributed bundled with other programs. If you have nothing to do with the installation of this potentially unwanted application, delete it from your system mercilessly today because it is not a program that can be called fully reliable.
If you open Control Panel, you will find the entry of Apogee Pc Pro there. Unfortunately, it does not mean that you could delete this program like any ordinary application because it leaves leftovers on users' computers – you need to delete them all yourself (check the manual removal guide provided below). Alternatively, you can delete this program from your PC fully with an antimalware tool. You need to scan your system with it only once to clean it.
How to remove Apogee Pc Pro
Windows XP
Click Start.
Click Control Panel.
Click Add or Remove Programs.
Select Apogee Pc Pro from the list and click Remove.
Windows 7/Vista/8/8.1/10
Tap Win+R.
Enter Control Panel in the command line.
Click OK.
Access Uninstall a program.
Select Apogee Pc Pro and click Uninstall.
Delete leftovers
Press Win+R.
Enter regedit.exe and click OK.
Delete the following registry keys one by one:
HKCU\Software\Apogee LLC
HKCU\Software\Wow6432Node\Apogee LLC
HKLM\SOFTWARE\Wow6432Node\Microsoft\Tracing\ApogeePCPRO_RASAPI32
HKLM\SOFTWARE\Microsoft\Tracing\ApogeePCPRO_RASAPI32
HKLM\SOFTWARE\Wow6432Node\Microsoft\Tracing\ApogeePCPRO_RASMANCS
HKLM\SOFTWARE\Microsoft\Tracing\ApogeePCPRO_RASMANCS
Close Registry Editor and open Windows Explorer (Win+E).
Access %LocalAppdata%\%MTG Dynamics and %ALLUSERSPROFILE%\MTG Dynamics.
Delete ApogeePCPRO files from them.
Empty Recycle bin.
In non-techie terms:
ApogeePCPRO is promoted as a beneficial PC optimization tool; however, in reality, it is nothing more than a potentially unwanted program. If you ever install it on your computer, you will see for yourself that this program only scans your system but cannot fix any problems. We are talking here about its free version. You should not spend your money on the license of the potentially unwanted application when there are so many reputable PC optimization tools available. If you are not going to upgrade it, delete it mercilessly because it might still stay active and perform activities in the background.