Do you know what AP Suggestor is?
AP Suggestor is promoted as an Internet Explorer add-on that suggests products and services which you might find interesting. However, we recommend that you remove this advertising-supported program because these shopping offers are presented in a form of pop-ups, banners, and other annoying commercial distractions, on your web browser. If the incessant third-party commercial ads is not enough to convince you to get rid of this app, bear in mind that it might be exploited by malicious entities to promote links that will transfer you to dangerous sites. So, if you do not want to risk falling victim to cyber scammers or infect your PC with Trojans, worms, or other lethal infections, delete AP Suggestor without any further delay.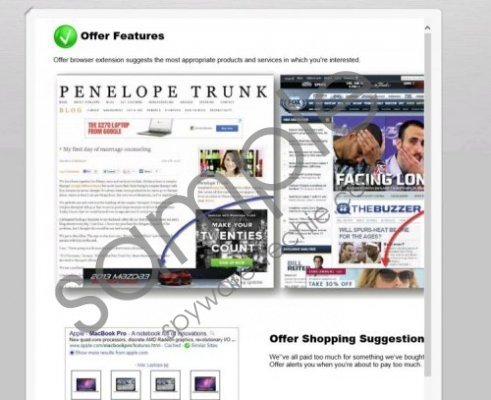 AP Suggestor screenshot
Scroll down for full removal instructions
Officially, this adware app is promoted on two identical websites apsuggestor.com and somud.com/index.php/apsuggestor.html. The official documentation (the Terms of Use and Privacy Policy) reveals that AP Suggestor was developed by Think Think Labs LLC on the basis of the SuperFish engine – a platform used in the development of adware apps – thereby justifying the fact that this application is not reliable, and thus should be deleted immediately. Adware, and AP Suggestor is not an exception, is known to reach target systems indirectly, in a company of programs distributed via software bundles. These software packages might contain not one but several unwanted or potentially dangerous applications, so if AP Suggestor is already on your PC, make sure there are not more additional infections that might impair your system. In the cases when you suspect that your machine is being compromised by multiple infections, equip your PC with a trusted antimalware program, which will automatically detect and remove all the malicious content.
We suggest that take the immediate action to remove AP Suggestor from your computer. Remember that adware apps are also known to collect marketing-related data about your web surfing activities; thus, if you do not want to be spied on by this unreliable program, delete it right now. What's more, the longer you keep this completely useless program on your PC, the larger is the possibility that you will accidentally visit unsafe sites set up by cyber criminals. You might not even notice when AP Suggestor is utilized to drop additional infectious programs onto your machine. We have prepared the step-by-step instructions below that will help you to remove this unwanted program from your system. However, the best clean-up can be carried out only by the best antimalware tools; therefore, we strongly recommend that you invest in trusted and tested antimalware software.
Remove AP Suggestor
Windows 8 and 8.1:
Open theCharm bar and choose Settings.
Go to Control Panel and open Programs and Features.
Choose AP Suggestor in the program list and click Uninstall/Change.
Windows 7 and Vista:
Open the Start menu and go to Control Panel.
Click Programs, and then choose Uninstall a program.
Select AP Suggestor in the program list.
Click Uninstall/Change to remove the unwanted application.
Windows XP:
Open the Start menu and go to Control Panel.
Choose Add or Remove Programs, and then select AP Suggestor in the program list.
Click Remove to get rid of the unwanted app.
In non-techie terms:
AP Suggestor is an adware application that will unleash commercial ads on your web browser. If you do not want be annoyed by ads wherever you go on the web, remove this adware app right now. Keep in mind that AP Suggestor might play a role in infecting your PC with malware, so add a reliable antimalware scanner to your security system.