Do you know what AnySend is?
AnySend is considered to be a potentially unwanted program (PUP) that users should remove, because it is deemed to be very unreliable. Its website claims that it is an easy to use application that can send files of any size to anywhere. That may be true, but the application has various problems associated with it. First of all, the application is set to display numerous ads that obstruct the user's browsing experience. On top of that, the user my find his computer infected with malware after intentionally or unintentionally clicking one of the ads.
AnySend is known to be distributed via its official website, from which the user can download and install it at his own discretion. Users may also install this PUP by downloading and installing software bundles. AnySend is known to be bundled with Install Core Click Run software installer, which often bundles legitimate applications with all kinds of third-party apps. It must be said that when installing software bundles this PUP does not install itself without the user's knowledge or consent, which means the user may choose to decline the installation of AnySend.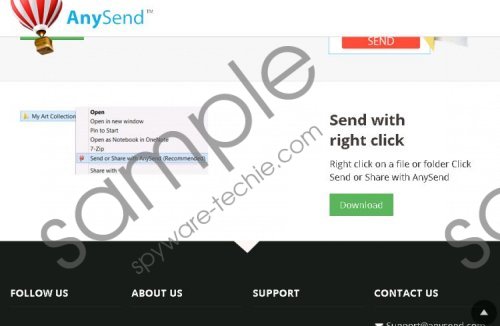 AnySend screenshot
Scroll down for full removal instructions
If you choose not to decline the offer and install this application, it will be visible in your programs list from which you can remove it, and we very much encourage doing so. It is worth mentioning that the application will also be shown as a browser extension on Internet Explorer, but will not appear on Firefox or Chrome. The user interface of AnySend is made to look like a hot air balloon, which will appear on the upper right corner of your desktop. Clicking on the balloon will open a window that says "What would you like to send?"
However, it must be said that this application is not developed for the purpose of giving the user a free file sharing tool. AnySend has been developed to generate revenue for its developers and, by extension, to the third parties that the developers promote. The PUP is known to utilize various means of online advertising, which includes pop-ups, banners, coupons, various product reviews and comparisons, search links, text links, and so on. We encourage users to delete AnySend because the advertisements it promotes are not endorsed by its developers, which means that the promoted content may be dangerous and might infect the system with malware.
Due to its potential risk to the security of your system, we advise users to remove AnySend as soon as possible, because sooner or later, failing to do so it will most definitely get malware installed on your system. The severity of the danger varies, however, but we don't recommend taking any chances and once again urge you to delete it.
How to remove AnySend
Windows 8 & Windows 8.1
Open the Start Screen.
Type Uninstall in the search box and then go to Settings.
In the search results, click Uninstall a program.
Locate AnySend.
Click Uninstall.
Windows 7 & Windows Vista
Click Start.
Select Control Panel.
Click Uninstall a program.
Locate AnySend.
Click Uninstall.
Windows XP
Open the Start menu.
Click Control Panel.
Select Add or Remove Programs.
Locate AnySend.
Click Uninstall.
In non-techie terms:
AnySend is a potential security risk. Having this application on your PC could lead to major security problems because there is no way of knowing if the ads it promotes are legitimate or not. Thus, we encourage you to remove AnySend and not to risk getting infected with dangerous malware.