Do you know what Antivirus System is?
Antivirus System is a fake antivirus program that displays fake security notifications and slows down your computer performance in order to swindle you out of your money. This rogue antispyware application makes an impression that your PC infected with a number of malware applications and you need to remove all of them with Antivirus System. However, the only thing you need to remove is Antivirus System itself. If you do not remove this program on time, it may seriously damage your system to the point of no return.
The most important thing you need to understand that is that Antivirus System cannot protect you from malware infections, because it is a computer threat itself. It claims that it offers a perfect protection only for $89.95, but were you to purchase the license for Antivirus System, you would reveal your credit card number and other important information to cyber criminals, and they would be able to perform illegal financial operations little by little stealing all of your money.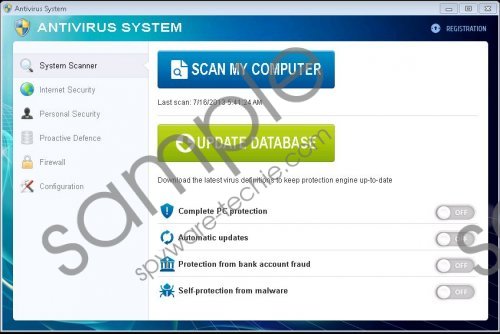 Antivirus System screenshot
Scroll down for full removal instructions
If you bought the full version of Antivirus System, inform your bank or credit card company about the transaction to prevent the financial theft. Next, you need to remove Antivirus System from your computer at once. It is possible for the rogue to block system processes and various other programs that would assist you in malware removal. In fact, when the fake AV kills a particular process it displays the following message, making it seem as though it has prevented a malicious infection from spreading:
ANTIVIRUS SYSTEM FIREWALL ALERT
Rundll32.exe is infected with Trojan.JS.Fraud.ba. Private data can be stolen by third parties, including credit card details and passwords.
On top of that, Antivirus System also displays other fake security notifications that are supposed to make you think you are seriously infected with malware:
COMPUTER SECURITY AT RISK!
Your computer still under attack. Dangerous programs were found to be running in the background. System crash and identity theft detected. Remove malware now and get real time intrusion protection?
You obviously cannot succumb to these threats – acquire a powerful antimalware program and remove Antivirus System automatically, because it is the most efficient way to remove dangerous computer threats. Not to mention that you are bound to be infected with Trojans and other types of malware as such things as Antivirus System seldom come alone. Do what is best for your PC and safeguard it against dangerous infections.
In non-techie terms:
Antivirus System is a computer infection that wants to steal your money. It slows down your PC and does not allow you to run various programs, so you need to remove Antivirus System as soon as you can with a reliable computer security tool.
Aliases:AntivirusSystem