Do you know what Antivirus Security Pro is?
Antivirus Security Pro is a computer infection that tries to scare you into believing your computer is heavily infected with dangerous viruses. The infection tries to pass for a legitimate antivirus program in order to push you into paying for its license. It is obvious that Antivirus Security Pro arrives at your computer in order to steal your money, so you should never reveal your credit card information to this threat. Remove Antivirus Security Pro from your computer as soon as you can and then safeguard the system with a legitimate antimalware application.
In case you have paid for the full version of Antivirus Security Pro already, you need to contact your bank immediately, so that your credit card would be cancelled. This way, cyber criminals who are responsible for creating Antivirus Security Pro will not be able to make use of your financial information in order to perform illegal financial operations online. Once that is taken care of, do take a closer look at your PC and then terminate Antivirus Security Pro, because this rogue from WinWebSec family is not going anywhere unless you make it.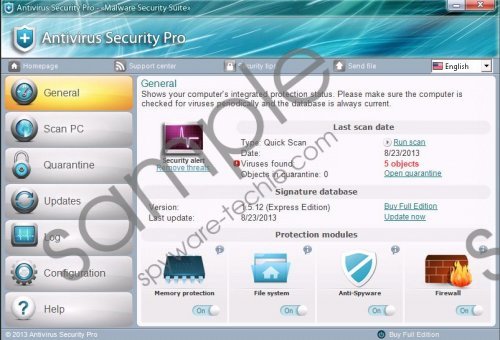 Antivirus Security Pro screenshot
Scroll down for full removal instructions
Antivirus Security Pro actually is not the first malicious program in line, as it is a modified clone of such infections as Antivirus Security 2014, Attentive Antivirus, Live Security Platinum and others. It is also understandable, why users feel compelled to purchase the full version of this program – it performs a fake system scan that looks really, displays a list of supposed infections in your computer, and then even bombards you with fake security notifications, claiming that your system is on a verge of breaking down:
Warning! Infected file detected
Location: File System
Suspicious activity detected in the application notepad.exe to the behavior of the virus Win32/Conficker.X. For your security and to avoid loss of data, the operation of application cmd.exe has been temporarily restricted.

Warning! Network attack attempt detected.
To keep the computer safe, the threat must be blocked.
As you can see from the notifications, Antivirus Security Pro may even deny you access to a specific number of programs, claiming that they are infected with worms. Nevertheless, there is nothing of a kind on your PC, and Antivirus Security Pro simply does not allow you to run any program that may help you remove the rogue from your computer. You can bypass this obstacle by registering Antivirus Security Pro using one of these registration keys:
AF03E-E22AADDD-1DD55222-D13B34CC-594AAE3A
AA39754E-715219CE
Manual registration gives you some time to acquire a reliable antimalware program and then remove Antivirus Security Pro from your computer for good. Do not try manual removal if you are not a computer expert, because you may end up deleting important system files. Leave malware removal to the professional and do invest in your system's security by acquiring a reliable computer safety tool.
In non-techie terms:
Antivirus Security Pro is a dangerous computer threat that wants your money, so it tries to make you think that your PC is infected with malware. You need to remove Antivirus Security Pro from your PC immediately in order to restore is former functionality.
Aliases: AntivirusSecurityPro.