Do you know what Antivirus PRO 2015 is?
If your Windows operating system has been infected with Antivirus PRO 2015, the next thing you need to do is remove this rogue antivirus. Unfortunately, the interface of this fake AV is very convincing, and many users believe that the program can be trusted. Of course it cannot, because this rogue has been developed to fool you! If you don't delete Antivirus PRO 2015, it will keep presenting fictitious scanner reports identifying tens of scary-looking infections that supposedly wait removal. The thing is that you don't need to delete these programs, because they don't actually exist. The scanner of Antivirus PRO 2015 is as fictitious as the warnings regarding their removal. In fact, the only infection whose removal you need to focus on at this moment is the malicious Antivirus PRO 2015.
Antivirus PRO 2015 is not a clone of AVC Plus, SystemBytes Win 7 2015, Protective Antivirus 2015, or other infamous infections that attack specific Windows versions, but all of them have been created by the same cyber criminals. These infections belong to the Braviax family, and you can learn more about it, as well as the removal of different threats, by entering the family name into our Search box. Even though it is extremely annoying that cyber crooks keep on profiting from clueless Windows users, we are at an advantage in this situation because of the number of similar threats whose removal we have reported in the past. We know how to remove Antivirus PRO 2015, because, just like other threats from the same family, this rogue blocks executable files and stops users from launching browsers. This threat is predictable, and we know all of the obstacles that users can encounter when removing it.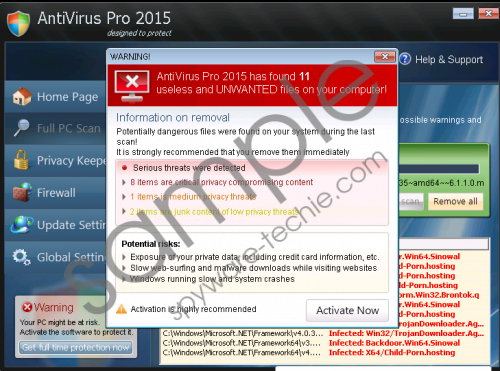 Antivirus PRO 2015 screenshot
Scroll down for full removal instructions
The first obstacle that users encounter is the misleading interface. As mentioned already, Antivirus PRO 2015 doesn't look like a threat. Instead, it resembles an authentic Windows security tool that can reinforce Firewall, scan your PC, and delete malicious programs. However, if you realize that you are not familiar with Antivirus PRO 2015 and that it forces you to pay money for an unfamiliar product, you should soon realize that it is just another fake malware remover that cannot delete a single malicious file. The second obstacle when removing Antivirus PRO 2015 is the blocked executables. Luckily, there is a way around this issue: You can reboot your operating system in Safe Mode with Networking.
We have created a removal guide that shows how to reboot your operating system in Safe Mode with Networking and install reliable security software to delete Antivirus PRO 2015. Are you scared to deal with any security tools? Not all of them are rogues, and if you don't protect your PC, sooner or later it will become a target of cyber criminals again. We offer to install SpyHunter, which is a reliable automated malware removal tool that can ensure full-time Windows protection.
Delete Antivirus PRO 2015 from Windows 8/Windows 8.1
Access the Metro UI start screen and navigate to the top.
Click the Power Options button.
Press and hold the Shift key and click Restart to open the Troubleshoot menu.
Click Advanced options and move to Startup Settings.
Click Restart and select F5 (Safe Mode with Networking)
Launch a browser and visit http://www.spyware-techie.com/spyhunter .
Click the Download button and run the installer of a reliable automatic malware remover.
Scan your PC and click Fix Threats to remove Antivirus PRO 2015 and other malicious infections.
N.B. Windows 7, Windows Vista, and Windows XP users should use the removal guide presented below.
In non-techie terms:
Antivirus PRO 2015 is a rogue that must be removed from your operating system ASAP. If, instead of removing this infection, you activate its licensed version, you will not only lose your money, but will also put your virtual security on a line. The manual removal of Antivirus PRO 2015 is extremely complicated, and some users are more likely to cause more issues when trying to delete malicious components. Due to this, we advise using automatic malware removal software to delete Antivirus PRO 2015.