Do you know what Antivirus Defender 2015 is?
If you are looking for a tool that would help you to protect your computer from adware, spyware, and Trojans, you should know that Antivirus Defender 2015 is fake anti-virus software and there is no point in installing it on the system. Actually, the free version of Antivirus Defender 2015 does not exist, so you should definitely not invest your money in it. If you have already noticed the presence of Antivirus Defender 2015, it is still very important that you remove it from your system. Even though it does not block .exe files like previously published rogue security software, it is still impossible to delete it via Control Panel. Luckily, we know how to erase Antivirus Defender 2015. Do you want to find out how to remove this fake anti-virus software? If it is exactly so, you should read this article from beginning to end.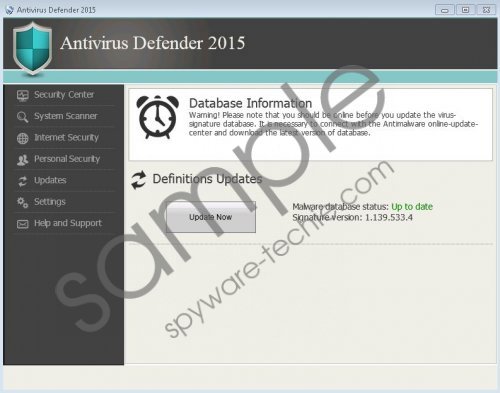 Antivirus Defender 2015 screenshot
Scroll down for full removal instructions
The researchers at spyware-techie.com have tested Antivirus Defender 2015 and found out that this software does not act as it promises. Research has shown that this anti-virus software will only pretend to perform a full system scan. It will not even provide you with fake scan results like other similar infections. As Antivirus Defender 2015 is completely fake software, it is not surprising that it cannot detect infections that exist on your computer. If you have not invested in it yet, you should definitely not do that because there are other reliable security applications available for $69.95. In addition, there is also a risk that cyber criminals will use your credit card details for bad purposes, so we definitely not recommend making a payment.
Computer users can download Antivirus Defender 2015 from its official website avsdefender.com; however, this fake anti-virus software is usually installed on the system when users click on ads or pop-up windows that offer to download an antivirus tool for the deletion of malware. You should never click on such ads. In addition, it is not advisable to install software if you do not know whether it is really trustworthy.
You will not be able to remove Antivirus Defender 2015 via Control Panel. The easiest way to get rid of this fake software is to scan the system with a trustworthy malware remover, such as SpyHunter. You will be able to download and install it easily because Antivirus Defender 2015 does not block .exe files like similar threats. In order to download this antimalware tool, you should scroll down and click on the Download button. If you have some experience in malware removal, you can try deleting this program manually as well. You have to find AvDefender.exe file (it usually hides in %ProgramFiles%) and then simply delete it.
In non-techie terms:
If you do not want to encounter similar infections in the future, it is very important that you always keep your antimalware tool enabled. If you still do not have one installed on your PC, you should do that as quickly as possible. SpyHunter will definitely protect your PC from malicious software, so we think that it is worth investing in it.