Do you know what AnimeUnzipped Toolbar is?
AnimeUnzipped Toolbar is one of those suspicious programs that you might install without thinking things through. Although this program looks beneficial, there are too many questions regarding it, and we are ready to answer them all for you in this report. Once you know how this toolbar truly works, you will know whether or not you need to remove it from your operating system. Even though we recommend removing AnimeUnzipped Toolbar, we do not want you following our advice without a reason. Please take note of any questions that might arise while researching, and post them in the comments section down below.
Our research team has a lot of information about the software created by Mindspark Interactive Network. This company specializes in toolbars, the latest of which include AnimeUnzipped Toolbar, GetFormsOnline, FlightSearch Toolbar, and DirectionsAce Toolbar. These toolbars are represented via different sites, and they promote services that address different topics, but, in general, they are identical. You can even remove all of these toolbars using the same methods. Moreover, all of these toolbars travel with Ask.com-related search tool, without exceptions. We suggest deleting this search tool because it was found to show sponsored links (advertisements), which makes it quite suspicious and unreliable. Luckily, it is highly unlikely that you will need to delete any other third-party programs if you install AnimeUnzipped Toolbar from its official download page, free.animeunzipped.com/index.jhtml.
According to the information we have gathered, Mindspark progra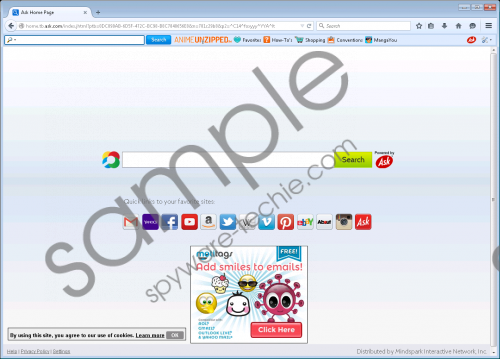 AnimeUnzipped Toolbar screenshot
Scroll down for full removal instructionsms can also be distributed by malicious installers, and that is bad news. If AnimeUnzipped Toolbar was introduced to you by an installer of this kind, you might have downloaded it along with programs that require removal too. Although this toolbar can introduce sponsored links, and home.tb.ask.com (homepage) can show banner advertisements, you have to beware of other ad-injecting programs. Silent threats could be downloaded as well. We suggest using an authentic malware scanner to identify all programs that potentially require removal.
AnimeUnzipped Toolbar uses tracking cookies to record information about you, shows advertisements using a strange search provider, and provides links to often unfamiliar sites. Due to this, we advise removing this toolbar from your browsers (Chrome/Firefox) and PC (if you use Internet Explorer). If you have decided that you want to delete AnimeUnzipped Toolbar, this is what you need to do. First, uninstall this program or delete the extension – depending on which browser was infected – and replace the unwanted search tools. Next, install an antimalware tool to make sure that all other threats are deleted as well. If these threats do not exist, you should still use this tool for further Windows' protection.
Delete AnimeUnzipped Toolbar
Delete from Windows 10
Move to the Taskbar and enter Control Panel into the search box.
Open the menu and move to Uninstall a program.
Right-click the application you want to remove and click Uninstall.
Delete from Windows 8.1 or Windows 8
Open the Charm bar in Metro UI.
Click Search and enter Uninstall a program.
Launch the menu, right-click the app you want to remove, and choose Uninstall.
Delete from Windows 7 or Windows Vista
Click the Windows/Start button on the Taskbar.
Open the Control Panel menu and click Uninstall a program.
Right-click the program you want to remove from your PC and click Uninstall.
Delete from Windows XP
Click the Start menu icon on the Taskbar and open Control Panel.
Double-click Add or Remove Programs and find AnimeUnzipped Toolbar.
Click the undesirable application and choose Remove.
Delete from Internet Explorer
Launch the browser and tap Alt+T.
Select Internet options.
Click the General tab.
Remove/edit the Home Page URL and click OK.
Tap Alt+T again and select Manage Add-ons.
Select Search Providers.
Remove the undesirable search provider and click Close.
Delete from Mozilla Firefox
Launch the browser and tap Alt+T.
Select Options.
Move to the General menu.
Remove/edit the Home Page URL.
Move to the Search menu.
Remove the undesirable search provider.
Tap Ctrl+Shift+A (launches Add-ons Manager).
Move to the Extensions menu.
Remove the unwanted extensions.
Delete from Google Chrome
Launch the browser and tap Alt+F.
Select Settings.
Move to the On Startup menu.
Select Open a specific page or set of pages.
Click Set Pages.
Remove/edit the unwanted tool and click OK.
Move to the Appearance menu.
Select Show Home button and click Change.
Remove/edit the unwanted tool and click OK.
Move to the Search menu.
Click Manage search engines.
Click X on the URL of the provider you want to remove.
Click Done.
In non-techie terms:
If you have downloaded AnimeUnzipped Toolbar onto your PC, you must think that this toolbar will help you access important information. Although this toolbar might show links to sites you are interested in, it also promotes a modified search provider and downloads tracking cookies to track you. If you choose to remove AnimeUnzipped Toolbar – and this is what we advise – use the removal guide above, as well as an antimalware tool that can clean the remaining threats and protect your virtual security in the future.