Do you know what Amulec is?
If your browsers are/were corrupted by any of the ELEX family hijackers, there is a huge possibility that Amulec is also present. This potentially unwanted program is likely to come packaged with Amisites.com, Luckysite123.com, LuckySearch123.com, and other similar hijackers without any notice. Unfortunately, that is exceptionally dangerous because the infection can perform in a malicious way without you realizing it. The biggest issue with this PUP is that it can download malware, and that, of course, is the biggest reason to remove it from your operating system. Our research team has observed a rise in the popularity of this potentially unwanted program, and so we decided to introduce you to it in depth. Hopefully, you can protect your operating system in time to make sure that you do not need to worry about deleting Amulec. If this infection has already invaded your PC, we have a solution for you.
Although Amulec does not hide itself, it is unlikely that you check your operating system frequently for any suspicious, unfamiliar programs. Though all you need to do is check the "Uninstall a program" or "Add or Remove Programs" menus to see if this potentially unwanted program is active, it is unlikely that you will do that. Unless, of course, the hijacker linked to this threat slithers in without your notice, and you are desperately trying to remove it. Even so, you might not recognize the PUP as a threat. In fact, it might be difficult to recognize this threat altogether because its name could be modified. Other names that we have found the PUP using include "aMuleCustom" or "amuleC[random number]." Note that the names could be more obscure in your case. Unfortunately, this PUP is unlikely to be the only threat you will need to worry about.
Amulec is most likely to enter your operating system bundled with malware, which means that other threats might be active from the very start. On top of that, as our researchers have found, the PUP itself was created to download malware, and it uses the infamous eMule engine to do that. It is difficult to say what kinds of threats could be installed, but we can predict adware, hijackers, Trojans, and other infections that vulnerable users have to fight every single day. Some of these threats might be easy to detect and remove, but others might hide from you, and their elimination might be extremely complicated. Therefore, once you discover Amulec, you need to scan your operating system. Choose a reliable malware scanner, and you will know which threats you need to delete from your PC in no time. Keep in mind that if you install a bogus or outdated scanner, it will not help you assess the real situation.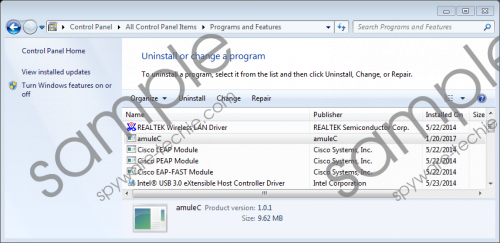 Amulec screenshot
Scroll down for full removal instructions
You need to uninstall Amulec as soon as possible. The longer you wait, the more infections are likely to slither into your operating system, and the more infections there are, the more problems you face. Of course, if you choose to use automated malware detection and removal software, it does not matter how many infections are present because they will all be eliminated at the same time. If you stick with manual removal, do not forget to reinforce your PC's protection by employing good security software afterward.
Remove Amulec
Windows 10/Windows 8/Windows 7/Windows Vista
Simultaneously tap Win+R keys to launch RUN.
Type Control Panel into the dialog box and click OK.
Move to the Uninstall a program menu.
Right-click the undesirable application and choose Uninstall.
Windows XP
Click the Start menu icon on the left of the Taskbar.
Open Control Panel and move to Add or Remove Programs.
Select and Remove the undesirable application.
In non-techie terms:
Amulec is a threat that you need to delete as soon as possible because it has the capability of downloading other infections onto your computer. The elimination of this PUP is not difficult, and you are likely to get rid of it completely by uninstalling it, as shown in the guide above. Unfortunately, other threats are likely to exist, and you might need to approach them using different methods. First and foremost, scan your PC with a legitimate scanner to see which threats you need to eliminate from your computer. Then, choose which removal method fits you best. If you can erase all threats yourself, go ahead, but do not forget about the further protection that you need in order to keep your operating system clean in the future.