Do you know what AmazingTab is?
If you do not trust security tools to screen the software you install, you have to be extremely careful. AmazingTab is one of the programs that raise many questions, primarily because it can act in an unpredictable manner. Most users do not realize that New Tab will replace the Chrome startup page and modify the home button option when they install it. Due to this, this potentially unwanted program is often classified as a browser hijacker by mistake, and, as you know, hijackers are malicious programs that require urgent removal. Although potentially unwanted programs are not always malicious, you should remove AmazingTab. Please continue reading, and you will learn why this PUP has to be taken seriously.
The suspicious AmazingTab can be distributed in at least three different ways. First of all, it is official introduced at amazingtab.com. Secondly, it is offered to users via the Chrome web store. Finally, it was found to hide within malicious installers. We do not recommend executing software bundles, unless they are introduced by reliable installers and spread reliable software. Obviously, if malicious software slithers in, you might have a few other threats to remove. AmazingTab itself is a handful in a sense that it is intrusive and relatively unpredictable. Although the Privacy Policy states that only non-personally identifiable information is collected, our research team is not so sure, and because of this uncertainty, we recommend removing AmazingTab.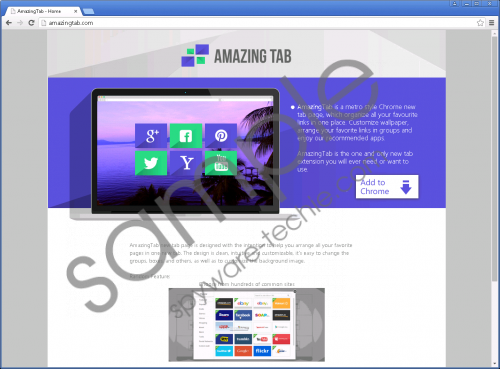 AmazingTab screenshot
Scroll down for full removal instructions
If you install AmazingTab, it will track your browsing history, record bookmarks, and even start managing the extensions installed on Chrome. Not all browser extensions are this intrusive, and this should be weighed when discussing the removal of this PUP. You also need to keep in mind that the creator of AmazingTab is likely to work with different parties, and they might use information about you in unknown ways. In fact, they might be allowed to install their own tracking cookies, and we advise reviewing and removing cookies as soon as you delete AmazingTab itself.
We are sure that you understand that it can be risky to keep AmazingTab, and since this program is not that useful, we suggest removing it right this moment. Do you know how to delete Chrome extensions? If you are experienced at this, you should delete AmazingTab in no time. Note that this extension affects your browser, and New Tab might remain set as your homepage. Luckily, this is not a problem that is difficult to solve. We have created the guide below to help you restore your Chrome browser easily. Of course, we cannot stress enough how important it is to use antimalware software that can delete third-party malware and protect Windows from it in the future.
Delete AmazingTab from Chrome
Open the browser, tap Alt+F, navigate to More tools, and click Extensions.
Click the recycle bin next to the unwanted extension and click Remove.
Move to the menu on the left and click Settings.
Under On Startup mark Open a specific page or set of pages and click Set pages.
Overwrite/remove the URL of the startup page and click OK.
Under Appearance mark Show Home button and click Change.
Overwrite/remove the URL of the Home button option and click OK.
In non-techie terms:
Do not hesitate about the removal of AmazingTab because this program is not beneficial. Sure, this program allows you to choose New Tab wallpapers and allows you to access different links from one place, but these services are not worth the risks that you might face if you keep this PUP installed. Since the removal of this extension is not complicated, we are sure that you will remove AmazingTab manually. On the other hand, third-party malware – if it exists – should be managed with the help of reliable antimalware software.