Do you know what Always Weather is?
An application that goes by the name of Always Weather should not be active on your personal computer. That is our advice since it happens to be yet another potentially unwanted program. Malware experts working at our internal labs have assigned this category after an extensive research process. As it turns out this piece of software can exhibit extremely invasive functionality, which in turn might make surfing the web an annoying and frustrating task, to put it lightly. It is also important to note that in some instances this dubious application could be spread in suspicious ways, which is another major reason for classification of a potentially unwanted program. To understand why our malware experts advise you to remove Always Weather, make sure to read the rest of this report. Additionally, we present a few virtual security tips and a detailed removal guide that you can use to delete Always Weather in no time at all.
A lot of users obtain Always Weather since it is advertised on its official website as a great tool that should present up to date information regarding the local weather right within your web browser. It sounds like a program worthy of having up and running you personal computer. Unfortunately, the reality is a bit different. Once the potentially unwanted program enters your operating system, it immediately installs a browser plug-in, which at first sight might seem like it is doing its job. The application provides a small icon next to the browser's menu button that once clicked drops down and presents you with weather forecasts. Despite all of that, the extension could also act in a rather devious manner. Further analysis has revealed that in some instances it could establish a lasting connection to a suspicious third-party adware server. If this happens, you might start seeing unusual amounts of questionable web content while surfing the web. Usually, such content comes in forms of sponsored third-party ads, coupons, and pop-ups. Due to such functionality, surfing the web will become a much more annoying and frustrating experience, to put it lightly. In severe cases, your browser could be filled with so many ads, pop-ups, and coupons that it could crash without any warning. It should be quite obvious why researchers at Spyware-Techie.com highly advise you to delete Always Weather without any hesitation. If you fail to do so, the invasive functionality could continue to bother you.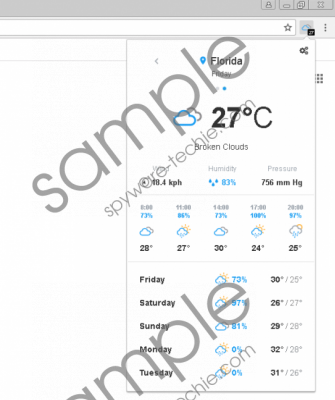 Always Weather screenshot
Scroll down for full removal instructions
As mentioned earlier, another reason Always Weather has been classified as a potentially unwanted program is its questionable distribution. Even though you can download it from its official website, there is a chance that this dubious application could be spread via bundled installers, which are infamously used by malware developers to spread their dubious programs. It is a dangerous instance since other questionable and even potentially dangerous software could enter your operating system along. Thus, we highly advise users that already have Always Weather running on their PC, to check their entire operating system for any other suspicious programs. To keep your computer clean of applications such as the one in question you can take a couple of simple preventative steps that will significantly improve your overall virtual security. You must avoid all unauthorized third-party download web pages since they are infamous for being the primary source of bundled installers. Also, you need to pay your utmost attention to every single installation procedure. By reading everything that is presented on the screen, you might be able to cancel the setup of some unwanted program. Lastly, you must install a professional antimalware tool if you do not have one already. Such a tool is the most important part of your virtual security because it is designed to detect and delete any virtual threat automatically.
The complete removal of Always Weather is a multiple-step procedure that you must perform with your utmost attention. It is critical to do so because a single mistake could have undesirable outcomes. If traces of Always Weather remain active on your PC, they could act deviously. For example, leftovers linked to this potentially unwanted program could trigger is restoration. In similar situations, traces might be enough to maintain a connection with an adware server. To be sure that the termination procedure has been successful, make sure to perform an in-depth analysis of your entire operating system for anything linked to Always Weather. Such analysis should be executed right after you are done with the removal guide below.
How to remove Always Weather from your computer
Open your File Explorer.
Remove a folder called pmcboldhlmhecoigccicmippjglnhhic in the following directories:
a) C:\Users\<your username>\AppData\Local\Google\Chrome\User Data\Default\Extensions.
b) C:\Users\<your username>\AppData\Local\Google\Chrome\User Data\Default\Local Extension Settings.
c) C:\Users\<your username>\AppData\Local\Google\Chrome\User Data\Default\Sync Extension Settings.
Close your File Explorer.
Right-click your Recycle Bin and then select Empty Recycle Bin.
In non-techie terms:
Malware experts at Spyware-Techie.com are well aware of the fact that the manual removal procedure might be too complicated for some users. If you happen to be one of those users, do not worry. Below you will find an alternative removal guide that will help you remove Always Weather in a fully automated manner.