Do you know what Alpha Crypt is?
Alpha Crypt is a ransomware infection that might enter your system if your PC is unprotected. This threat acts like TeslaCrypt Ransomware. In fact, some scholars say that Alpha Crypt has several functions and files that belong to TeslaCrypt ransomware. Like previously published ransomware infections, Alpha Crypt is a very serious threat. If it manages to enter, you will notice that you cannot even access the majority of your files. Do not worry; all these files can be recovered from a backup, but you still have to remove Alpha Crypt virus from the system. We will explain you how to do that in this article.
If Alpha Crypt enters your system, it will encrypt your files and add .ezz extension to all of them. In addition, you will see a message on your screen (your wallpaper will be changed) or you will notice a .txt message saying that "all your documents, photos, databases, and other important files have been encrypted with the strongest encryption key RSA-2048". It is clear from the message placed by Alpha Crypt ransomware that it will not decrypt your files unless you pay money. In most cases, this threat asks to pay 0.7 Bitcoin; however, it is still unclear whether cyber criminals will unlock your files after you make a payment; thus, we think that it would smart not to pay money at all even if this ransomware says that "nobody will ever be able to restore files" in case you do not pay a ransom.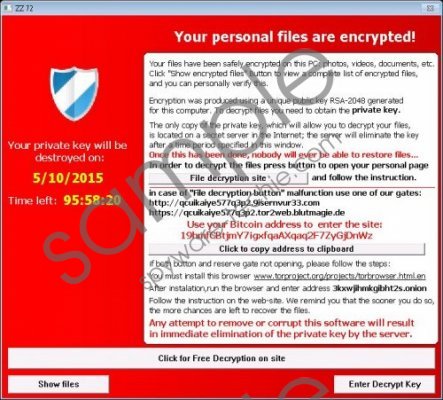 Alpha Crypt screenshot
Scroll down for full removal instructions
According to our team of experts, Alpha Crypt ransomware is distributed via the Angler Exploit Kit. There is a possibility that it might enter the system if you keep opening spam email attachments and clicking on various ads placed on suspicious websites as well. In order to prevent other similar threats from entering your system, you should definitely hurry to install a trustworthy antimalware tool, such as SpyHunter, on the system. Keep the tool always enabled if you surf the Internet on a daily basis.
Alpha Crypt is not a virus, but it is still very difficult to remove this threat. According to our specialists, you will definitely not be able to do that via Control Panel. Actually, it does not seem that ordinary computer users will ever be able to delete such a serious infection manually. Do not worry; you can still remove this ransomware by scanning the system with SpyHunter. Of course, you will have to upgrade it first.
How to remove Alpha Crypt from the system
Open your browser.
Go to http://www.spyware-techie.com/removal .
Download SpyHunter and install it on your computer.
Scan your system in order to get rid of ransomware infection.
In non-techie terms:
Unfortunately, the removal of this ransomware will not help you to gain access to your files. It is possible to recover them from a backup (e.g. USB flash drive) only. Make sure that you always make copies of the most important files because there are hundreds of other threats that might make the access to them impossible.