Do you know what AllPCOptimizer is?
AllPCOptimizer is a useless application that shows up on your computer under rather suspicious circumstances. As a matter of fact, we advise you to stay away from this software because you cannot trust it. Our researchers categorized this tool as a potentially unwanted program (PUP) after carefully testing it in our internal lab. Although this application itself does not seem to mean direct threat to your computer or your system security, it might still expose you to schemers, which might cost you dearly. In fact, its presence can be linked to malware infections that may cause serious issues if left on your computer. We advise you to remove AllPCOptimizer if you want to feel safe while using your PC. In order to see more clearly why we think that it is risky to keep this PUP on board, please read on.
It is actually possible to download the installer of this PUP from its official website, allpcoptimizer.com; however, according to our researchers, this is not how most of the users get infected with AllPCOptimizer. It has been found that this PUP gets mainly installed silently, i.e., without your knowledge and permission, in the background by either a Trojan malware infection or a malicious file updater. Well, either of these are bad news, but, obviously, having a Trojan horse on your computer is possibly one of the worst things that can ever happen to you. This Trojan can be a backdoor for cyber criminals to access information and files on your hard drive, but it may also be used to download and install useless but potentially dangerous programs, such as AllPCOptimizer and adware applications. Simply deleting AllPCOptimizer will not substantially decrease the threat level on your PC. Unless you remove all the malware threats from your operating system, you will not be secure.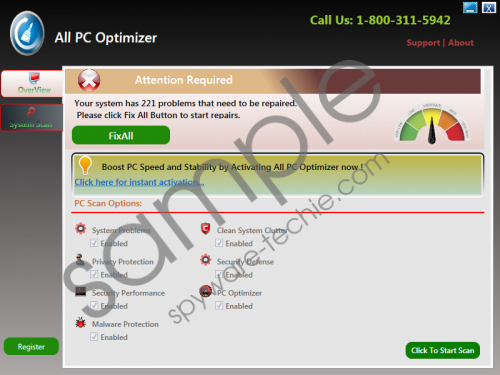 AllPCOptimizer screenshot
Scroll down for full removal instructions
According to our research, this PUP is a clone of Win PC Optimizer and OnePCOptimizer, which are both well-known for being useless and unreliable PUPs as well. As a matter of fact, AllPCOptimizer poses as a useful program that can optimize the performance of your computer by deleting junk files and other similarly unimportant things. However, this PUP seems to crash all the time, not to mention that it displays fake error messages, which only means to scare unsuspecting users to buy the full version for $19.99. But, if you are looking for a solution or error fix, you need to call an allegedly toll-free telephone number. We do not advise you to call this number because it is a rip-off. It is possible that it is not even a toll-free number, so you may have to pay for the call, which can be a long promotional call. Most likely, instead of offering you real-time support, you will be offered a product to buy to fix your computer. This is a rather fishy application that reminds us of similar scams. That is why we recommend that you remove AllPCOptimizer from your computer.
Unfortunately, this PUP does not even have a proper working uninstaller, which makes is a bit more complicated to eliminate it. First, you need to delete its main directory and then, another directory to remove the fake error messages. After this, it is worth installing a reliable antimalware tool, such as SpyHunter, in order to remove all the infections that may be present, including the Trojan and the malicious installer, which may be responsible for this PUP in the first place. Please use our instructions to help you sort out this headache.
Remove AllPCOptimizer from Windows
Press Win+E to launch the Windows File Explorer.
In the address bar, type in: C:\Program Files (x86)\ WinPCOptimizer or AllPCOptimizer. Delete the whole folder.
Now, type in: C:\ProgramData\DataFile. Delete the whole folder.
Start up your browser, go to http://www.spyware-techie.com/download-sph, and download SpyHunter.
Install the application, run a full system scan, and remove all the threats.
Restart your PC.
In non-techie terms:
AllPCOptimizer is a potentially unwanted program whose presence may signal that you have malware infections present on your computer. This could be either a Trojan or a malicious updater. None of these are good news for you and your system. Since this PUP is totally useless with its unreliable error messages, we recommend that your remove it as soon as possible. But what is even more important is that you scan your PC for malware infections and whatever your scanner finds you need to eliminate right away in order to protect your computer.