Do you know what AllMoviesSearch is?
AllMoviesSearch is a browser extension that is described as a tool that "lets you browse the web and get easy access to search, images, videos and news." Also, the description says that the application provides "The best way to search." Truth be told, we have encountered many similar extensions that have the quoted lines in their descriptions, such as ConvertrzSearch. Thus, if you are hoping for a unique application to browse the Internet, you might be disappointed by this extension. Like other similar tools, it falls under the classification of potentially unwanted programs. It means that the application could have undesirable functionality. If you want to learn more about it, we encourage you to read our full report. As for learning how to delete AllMoviesSearch, we can offer our removal guide placed below the main text.
At the moment, we can see that AllMoviesSearch is available on the Chrome Web Store page. With time the application could get erased if it gets reported or receives lots of negative reviews. However, it is likely that it is being spread through other channels too. For example, the potentially unwanted program's developers could distribute it through various file-sharing websites, pop-ups, and ads. Thus, to avoid such software, we advise not only to thoughtfully research applications before installing them but also to keep away from unreliable websites. Plus, it would be a smart idea to acquire a reputable antimalware tool that could stop you from interacting with questionable or malicious data.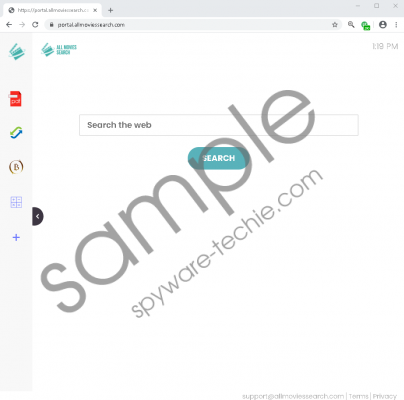 AllMoviesSearch screenshot
Scroll down for full removal instructions
Moreover, our researchers say that AllMoviesSearch works only on Google Chrome browsers. Also, it looks like it may change users' default search engines with a search website called feed.allmoviessearch.com soon after being installed. We noticed that the potentially unwanted program's provided search website redirects to a modified version of the Yahoo search engine. The difference between the original and the modified versions is that the latter could contain additional advertisements from the extension's third-party partners. How is using such a tool the best way to search? We cannot answer that as it seems to us that users who want to surf the Internet through the Yahoo search engine could simply set it as their default search engine or enter search.yahoo.com instead of installing some third-party tool. Another reason why the extension falls under the classification of potentially unwanted programs is that it could gather information to display targeted ads since its Privacy Policy says that collected data might be used to "Recommend content based on your preferences."
If you do not like that you might receive tailored ads from this application or that it provides a tool that may redirect to a modified version of the Yahoo search engine instead of displaying search results, you could erase AllMoviesSearch. One of the ways to get rid of it is to access Google Chrome's extensions menu. If you need step by step instructions, you could check the removal guide placed below. The other way to eliminate AllMoviesSearch is to scan your device with a chosen antimalware tool. After the scan, you should notice the potentially unwanted program among the list of identified items, and you should be able to delete it by pressing the tool's displayed removal button.
Remove AllMoviesSearch
Launch Google Chrome.
Press ALT+F.
Tap on More Tools and select Extensions.
Choose AllMoviesSearch.
Press Remove.
Click Remove again to finish.
In non-techie terms:
AllMoviesSearch is one of many potentially unwanted programs that are advertised as extensions that provide "The best way to search." In reality, the extension may offer a search engine that redirects users to modified versions of search.yahoo.com, bing.com, or other reputable search engines. Thus, users looking for unique and advanced search tools might be disappointed with this application as it seems incapable of displaying search results without employing other search engines. Also, some users might not like that the extension could gather data about their browsing and use it to show them targeted advertisements. If you do not want to keep this potentially unwanted program any longer, you could erase it by following the removal guide available above this paragraph. You can also delete AllMoviesSearch by scanning your system with a reputable antimalware tool that would identify the unwanted application and help you get rid of it.