Do you know what AllConvertersSearches is?
AllConvertersSearches is a potentially unwanted program. This application works likes a Chrome browser extension. In a sense, it should be able to improve or enhance your browsing experience, but if you're reading this description, you probably want to get rid of the tool. For that, just scroll down to the bottom and use the manual removal instructions that will help you terminate the application. It is not that complicated to achieve, and you might also want to scan your computer with a security tool if you want to get the idea of your system's security status.
The reason we always recommend scanning systems with security tools is that potentially unwanted programs tend to travel in packs. If users are not that careful about the programs they download and the websites they visit, they are bound to have multiple unnecessary applications on-board.
For example, if you download freeware apps from file-sharing websites, you might install unwanted applications accidentally. To avoid them, you need to read all the steps on the installation wizard carefully. More often than not, it is possible to deselect unwanted programs during the installation process. Therefore, be more responsible for the apps that enter your system.
Also, things like AllConvertersSearches definitely have official sources. It should be possible to add this extension to your browser through its official homepage at portal.allcoverterssearches.com, but there's also a page for the app at the Chrome Web Store. This page should let you know more about the extension, and if you're really interested in it, you are free to add it to your browser.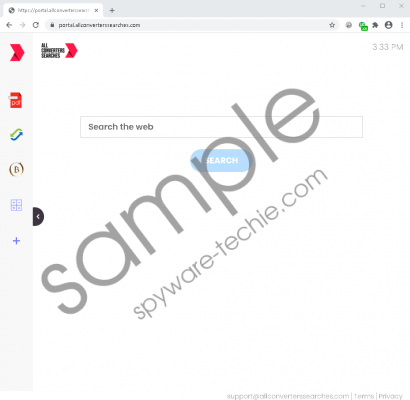 AllConvertersSearches screenshot
Scroll down for full removal instructions
However, if you didn't plan to add AllConvertersSearches, yet it's still there, you must have triggered some pop-up or a redirected window when you landed on a website that supports third-party advertising. It's also possible to launch such pop-ups just by clicking anywhere on a page that supports freeware distribution.
If you see a pop-up that suggests adding AllConvertersSearches to your browser, you can close the window by clicking the X button at the top right. Just don't click anywhere on the box that delivers the offer. It might seem that you have to click the box to close the window, but it's not true. In general, you just need to be more attentive when it comes to all sorts of notifications on your screen.
Now, the official description for this extension says that AllConvertersSearches is "the best way to search." It says that the "extension lets you browse the web and get easy access to search, images, videos and news. This is a single purpose extension." That's actually something we've heard about other Chrome extensions before. So, it seems obvious that AllConvertersSearches is just another version of SearchConverters, AllConvertersSearch, StreamBrosSearch, and many other extensions we have discussed before. The sheer abundance of such applications shows that there's something fishy about them.
Sure, we don't doubt their ability to provide search results, but the reality is that AllConvertersSearches employs the Yahoo! Search engine to do that. It doesn't have an original search provider. Also, AllConvertersSearches reads your browsing history (with your permission, nonetheless), and it can generate custom commercial content with all the information it collects. That content can reach you in the shape of search result links, or even pop-up ads that AllConvertersSearches might be able to display when you browse the web.
Usually, there is nothing malicious about that, but we mustn't forget that AllConvertersSearches could be exploited by malevolent third parties, and those links you see could lead to dangerous websites. Therefore, if you didn't want this extension, you should remove it.
You can use the manual removal instructions below or employ a reliable antispyware tool to remove AllConvertersSearches along with all the other unwanted applications. While it is often possible to remove unwanted applications manually, a thorough check with a security tool would let you know which files and programs need to be removed at once. Also, you would be able to protect your system from various threats in the future.
However, a security tool may not be enough to secure your system if you do not change your browsing habits. Please note that potentially unwanted programs do not enter your system unless you allow them to. Hence, you have to be careful in the future.
How to Remove AllConvertersSearches
Open the Chrome browser.
Press Alt+F and click Settings.
Scroll down and click Advanced.
Scroll down and click Restore settings to their original defaults.
Click Reset settings.
In non-techie terms:
AllConvertersSearches is not a malicious computer infection. It is a Chrome extension, and it is perfectly legal. However, some users may add this app to their browsers accidentally because it employs all sorts of third-party distribution sources. You can remove AllConvertersSearches without too much difficulty. However, while you're at it, make sure you scan your system with the SpyHunter free scanner. There might be more unwanted applications installed, and you have to terminate them all before it falls out of hand.