Do you know what Albireo is?
Albireo is an application that every Internet user should bypass at all times. You must do so since our malware researchers have classified it as yet another adware program; thus, just like any other application of this category it must be terminated, if it is found active on your operating system. The intrusive program has been dubbed as ad-supported software due to its invasive functionality. It is critical to highlight the fact that you could come across claims stating that this program could improve your web browsing experience in one way or the other. While such statements might sound tempting, you must know that they are used as a manipulation technique by the developers of this adware to trick unsuspecting users into obtaining it. In reality, this unwanted program will only ruin your online experience in numerous ways. Along causing disruptions, it could even turn out to be the reason other suspicious or even harmful program might be able to enter your computer without a lot of trouble. The complete removal of Albireo is critical for your overall system security as well as it is the only way that you can regain the normal functionality of your web browser.
While conducting the analysis of Albireo, we have found out that its functionality is rather different from other adware programs that are roaming the web these days. Unlike the majority of programs of this classification, the one in question does not rely on browser extensions to present you with a vast amount of intrusive third-party web content. This ad-supported application replaces the dnsapi.dll file with a new version of its own. Such change of this certain .dll file is critical to the overall functionality of this adware since it allows the intrusive program to establish connections to various adware servers. Such servers are the primary source of all unwanted web content that you might come across while surfing the web. In the majority of cases, this adware program will present you with worthless ads, invasive coupons, and annoying pop-ups. Such activity will bother you for as long as Albireo is fully running on your operating system. At times your web browser might get flooded with so many ads, pop-ups, or coupons that you might be simply forced to stop your online session just to close down everything that it presents you this; thus, surfing the web could become a virtually impossible task. The only way that you can once again surf the web the way you are used to is by executing a full removal of Albireo as soon as possible. If you fail to terminate it, your web browsing experience will continue to be heavily disrupted.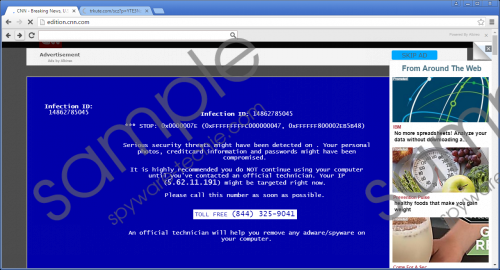 Albireo screenshot
Scroll down for full removal instructions
Even though the most prominent feature of this adware application is a presentation of unwanted third-party web content within your web browser, you must be informed about its potentially malicious functionality. During our investigation, we have discovered that in some cases Albireo could operate as a gateway program for other suspicious applications. Such potentially harmful activity is possible because the ad-supported program in question can easily connect to the Internet without any authorization. It goes without saying that such activity of this adware program could have rather devastating outcomes because it could trigger a silent download of some dubious or even malicious program. Therefore, we recommend analyzing your operating system for other questionable programs if you happen to already have this adware up and running on your computer. Such potentially malicious activity is the major reason a complete removal of Albireo is essential. If you continue to run this adware program on your computer, you will put your operating at constant risk of getting infected.
To fully stop the invasive and potentially malicious activity of Albireo, you must conduct its complete removal without any hesitation. Do not take any chances and use the removal instructions that we provide below. It is critical to conduct the whole procedure with extra care since a just a single mistake could mean that the invasive application was not removed entirely. To be sure that every single bit of Albireo has been removed from your computer, we firmly advise you to double-check your computer for potential leftovers right after you are done with the manual removal.
How to remove Albireo from your computer
Click the Windows button.
Type cmd into the search field and right-click it.
Select Run as administrator.
Type sfc /scanfile=C:\Windows\system32\dnsapi.dll and tap Enter.
Now type sfc /scanfile=C:\Windows\syswow64\dnsapi.dll and again tap Enter.
Close the Command Prompt.
In non-techie terms:
It is not surprising that some users might find manual removal of Albireo since it involves manual editing of .dll files. If you happen to be one of those users do not worry. Simply follow the alternative removal guide that we provide below. By doing so, you will be able to terminate this invasive adware application in an automatic manner.