Do you know what Air Globe is?
Some applications boast having something unique to provide their users with but fail to prove their worth. Remove Air Globe because being completely useless is not the only main drawback this browser extension can brag about. Keeping this adware application on your computer might seriously compromise your system security. You are advised not to delay and acquire reliable antimalware tools that will delete this application without requiring your assistance. The antimalware software works automatically, so you will not need to waste your time locating possible threats that might sometimes be not so easy to identify. To learn more about Air Globe and why you should not waste your computer resources on this adware application, we encourage you to read this article. Also, we have prepared concise step-by-step removal instructions that will help guarantee that the removal process is as effortless as possible.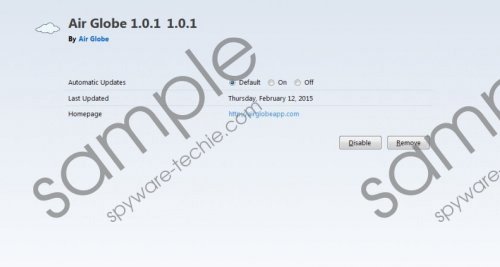 Air Globe screenshot
Scroll down for full removal instructions
Air Globe is identified as an adware application; therefore, if you use Internet Explorer or Mozilla Firefox (at the moment it is not compatible with Google Chrome), you should expect to see ads on your browser window. There will be no delay before a barrage of ads begins to appear on your Internet browser; but the worst part of it is that it might redirect you not only to some product or service page, but also to sites that are not filtered from malware. You should remove Air Globe to lessen the risk of this dangerous exposure. Besides spamming you with the potentially misleading commercial content, it will also gather information about the things you look for and sites you visit on the Internet. This type of data collection might be treated as suspicious activity; therefore, in order to prevent this information from falling into the wrong hands, you should remove Air Globe immediately.
SuperWeb LLC, the developer of Air Globe, has prepared the site airglobeapp.com to promote this adware application. However, you will not be able to download Air Globe from there, as the download links are not activated. In fact, the site is also deficient in information about the developers and a clear description of the functions Air Globe will use to enhance your browsing with. As, at the moment, it is unlikely that you download this adware application from its site separately, however, that does not mean you cannot deploy it onto your system together with other programs. As with Useful Program, Green Box, Teal Kitty, and other SuperWeb applications, it is known to spread bundled with other possibly dangerous applications. Therefore, you might need to remove not only Air Globe, but also the unsafe software you might have installed it with. To avoid putting your machine at risk, stop downloading illegitimate software from unreliable sources. Also, do not forget to install an antimalware tool that will act as a safeguard against such Internet-based infections.
Remove Air Globe from your machine
Windows 8 & 8.1
Press the Windows key+R.
Enter "control" in the field and click OK.
Under View by, choose Small Icons, and open Programs and Features.
Choose the undesired application and click Uninstall/Change.
Windows 7 & Vista
Click the Start button to open the Start menu.
Choose Control Panel.
Under View by, select Small Icons, and open Programs and Features.
Select the application you want to delete and click Uninstall/Change.
Windows XP
Click the Start button to open the Start menu.
Choose Control Panel.
Switch to Classic View and open Add or Remove Programs.
Choose the unwanted application and click Remove.
In non-techie terms:
Air Globe is an advertisement-supported application that will display ads whenever you surf the web. The reason why this application is potentially dangerous is that it might be exploited to transfer malware to your computer. In order to lessen the possibility of any threats entering your system, remove Air Globe as soon as you notice it active on your machine. Also, make sure you are equipped with antimalware removal tools that could automatically terminate the infections that might jeopardize the security of your computer.