Do you know what Advisurf.com is?
Do not trust Advisurf.com because even though it looks like a normal search engine, it is a browser hijacker that appears to have hidden agenda. You might think that this tool only redirects to Yahoo Search – which is not a good sign either – but it also records information about you, and it shares some details with unknown advertisers. What do advertisers have to do with a search tool? They might be using search results to promote sponsored links. Yahoo Search is not responsible for this, and if you want to set search.yahoo.com as your homepage or default search provider, you certainly can do it, but you should never trust search tools that redirect to other search engines. This is one of the reasons we recommend deleting Advisurf.com, and if you are interested in learning about other reasons, you will need to continue reading.
Needless to say, Advisurf.com did not appear out of nowhere. You must have let it in somehow. If you know which program it came bundled with, we recommend looking into it as well because it might require attention and even removal too. If you have no idea when or how your browsers were hijacked, we suggest scanning your operating system before you do anything else. Download a reliable malware scanner and use it to inspect your entire operating system. If other threats are discovered, you need to delete them as soon as possible. Should you need more information about these threats, look up available removal guides on our website, or let us know you need assistance in the comments section below. Right now, we need to focus on the removal of Advisurf.com. According to our research team, Chrome, Firefox, and Internet Explorer users might need to delete it from homepages and new tab pages.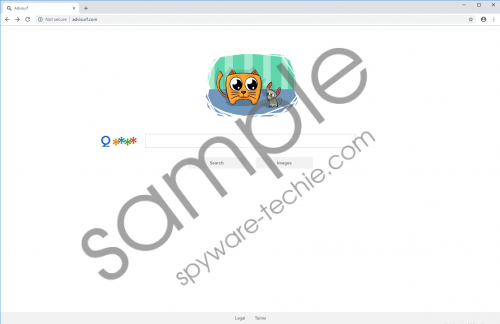 Advisurf.com screenshot
Scroll down for full removal instructions
Since Advisurf.com looks like a regular search engine, you might type search keywords into the allocated box without thinking. You can choose between "Search" and "Images" options, and they redirect searches to search.yahoo.com and images.search.yahoo.com respectively. Yahoo Search is one of the most popular search engines in the world, and chances are that you are familiar with it as well. That being said, you should not trust it blindly. First of all, you were redirected without permission, and that is a huge red flag. In fact, this is already enough to sentence Advisurf.com to removal. If that was not enough, the results could be modified, and that means that regular results – which you would see if you searched directly through search.yahoo.com – could be mixed in along with sponsored links. These are unpredictable, and we do not recommend interacting with them, as that could jeopardize your virtual security.
If you were redirected to Advisurf.com, close the page immediately, and figure out what has caused the redirect. If your browsers were hijacked, remove Advisurf.com without further delay. Our research team has created a guide that shows how to eliminate this hijacker from popular browsers, and the steps are fairly straightforward and easy to follow. Of course, if you cannot succeed, you can ask for help. Also, you can choose an alternative route. One of them is to implement anti-malware software that could simultaneously clean your operating system and browsers and secure them against threats.
Delete Advisurf.com
Google Chrome
Launch Chrome and enter chrome://extensions/ into the address bar.
If unfamiliar or unwanted extensions exist, Remove them immediately.
Enter chrome://settings/resetProfileSettings into the address bar.
Click the Reset settings button.
Enter chrome://settings/clearBrowserData into the address bar.
Select the time range and boxes and click Clear data.
Mozilla Firefox
Launch Firefox and enter about:addons into the address bar.
If unfamiliar or unwanted extensions exist, Remove them immediately.
Enter about:support into the address bar.
Click the Refresh Firefox button.
Enter about:preferences#privacy into the address bar.
Navigate to the History menu and click Clear History…
Select the time range and boxes and click Clear Now.
Internet Explorer
Move to Control Panel\Programs\Programs and Features.
If unfamiliar or unwanted programs exist, Uninstall them immediately.
Launch Internet Explorer and tap keys Alt+T.
Click Internet Options, move to the Advanced tab, and click Reset.
Choose Delete personal settings, click Reset, and click OK.
Tap Ctrl+Shift+Delete to access the Delete Browsing History menu.
Select the boxes and click Delete.
In non-techie terms:
There is no denying that Advisurf.com looks like a regular search tool that was set up to help you find what you need. Unfortunately, you might find more than you bargained for because this tool is likely to show modified results to include sponsored links. The hijacker modifies Yahoo Search content because this is the search engine that users are redirected to without authorization. Considering that the seemingly harmless tool redirects searches, shows sponsored content, spies upon users, and discloses information to unknown advertising parties, it truly is the best idea to delete Advisurf.com. You can do that using the guides above, but we recommend installing anti-malware software if other threats exist and if you need help protecting your browsers – and your operating system overall – against hijackers and other threats in the future.