Do you know what Advertising-Support ads is?
You can notice Advertising-Support ads if you have any of those advertising-supported programs on your system. They might come onto your computer unnoticed, so you should not be very surprised. Advertising-Support itself is an advertising domain that produces advertisements for many advertising-supported programs. Thus, this name is not related to threats directly; however, you should be very careful with all those programs that are based on this platform. It does not even matter which browser you use or which operating system is running onto your computer because Advertising-Support ads are being displayed throughout the entire web and you will not be able to prevent them appearing to you if you do not get rid of the adware program which is responsible for that.
There are plenty of programs that work together with Advertising-Support ads. One of the most famous ones is Feven, which belongs to Lyrics family adware and which is supposedly going to show you lyrics on YouTube and thus enhance your karaoke experience. However, not everything is as perfect as it might seem; it is actually very probable that Feven has been created in order to generate traffic to some particular websites, which is why it is closely related to Advertising-Support. If it happens that you really have this application onto your computer, you will recognize it through various shopping suggestions in commercial websites, banners, and other pop-up ads.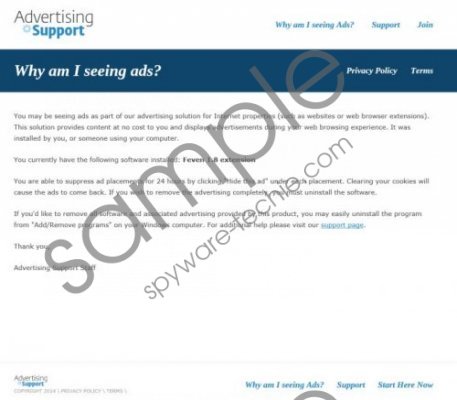 Advertising-Support ads screenshot
Scroll down for full removal instructions
If you have not downloaded Feven yourself and have not agreed to see various ads, you should know that it might have come on your system bundled with other programs, especially freeware. You should always download software from reliable websites only, if you want to avoid similar unwanted applications. What is more, custom installation might be useful as well because it will allow you to select only those programs that you really need and thus such programs as Feven, which shows Advertising-Support ads, will be left behind. Remove all the unfamiliar programs from your PC if you do not want to experience inconvenience.
You cannot remove Advertising-Support ads unless you erase the program responsible for them. In most cases, such a program is adware. Locate it on your system and use the manual removal instructions that we have provided for you below. In addition, you can erase these programs with an automatic remover like SpyHunter. If you use it, you will not have to worry whether you have deleted all the malicious software because it will do everything for you.
Remove the undesirable program
Windows XP
Open the Start menu.
Select Settings and then move to Control Panel.
Select it and then find the undesirable application on the list.
Click the Remove button.
Windows 7 and Vista
Click the Start button.
Select Control Panel from the menu.
Go to Uninstall a program and right-click on the useless program.
Select Uninstall.
Windows 8
Right-click on the Metro UI menu.
Select All apps.
Find Control Panel and then select it.
Select Uninstall a program.
Right-click on the software and select Uninstall.
In non-techie terms:
Advertising-Support is a service that produces advertisements for various advertising-supported programs. Actually, you might get in touch with such programs if you tend to download many free applications from unreliable websites as well as do not pay enough attention to the installation wizard itself. If you have any adware program on your system, you should definitely remove it because you will see various commercials every time you browse the web. In addition, they might be dangerous.
Aliases: Advertising-Support ads.