Do you know what AdvanceElite is?
AdvanceElite is an unwanted program that might slither onto your computer and start acting in a suspicious way. As our specialists have found out, it is very likely that this application will bombard your screen with various commercial advertisements. They will appear on Internet Explorer, Google Chrome, and Mozilla Firefox because AdvanceElite is compatible with all of them. This feature might not seem disturbing at all; however, you have to know that ads are not very annoying themselves (they appear without your permission and you have to close them in order to be able to browse the web freely), but also might lead you to the websites that contain malicious software. Actually, these are the main reasons why we advise you to delete AdvanceElite straightaway. Other adware programs act similarly as well; thus, you should be very cautious in order not to allow them enter your system in the future.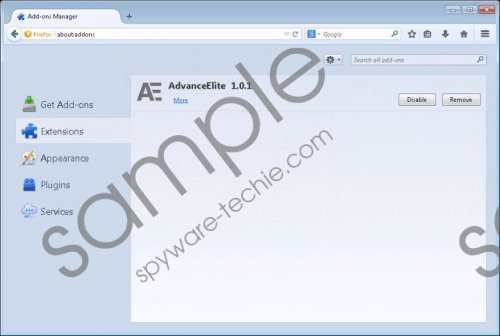 AdvanceElite screenshot
Scroll down for full removal instructions
The presence of ads labeled as "AdvanceElite Ads" or "Powered by AdvanceElite" just simply indicates that there is an advertising-supported application on your system. It is not worth keeping it installed because it might not only display annoying commercials, but also might collect some details related to your activities on the web. Thus, if you install AdvanceElite and keep it enabled, you will allow this program to record your search queries, links you have clicked on, and the content that you have viewed, used or purchased. According to the information provided in the Privacy Policy, all these details are collected in order to provide you relevant ads and content, improve the service, and conduct marketing research. The only way to stop this from happening is to delete AdvanceElite from the system.
Even though AdvanceElite has its official website (advanceelite.com), it is impossible to download it from there. Actually, it seems that it is impossible to download any of the Super Web LLC products. Therefore, it can be suggested that they travel bundled with other suspicious applications. It means that there is a possibility that your system contains other undesirable programs as well. You should eliminate them as soon as possible because they might act unacceptably.
You should not keep unreliable programs on the system because they might not only attract other serious infections, but also might cause you a great deal of inconvenience. In case of adware programs, they are not very dangerous, but might still cause harm to your system's security, which is why it is advisable to get rid of them as soon as possible. The easiest way to eliminate AdvanceElite is to scan the system with an automatic tool. Just make sure that it can be fully trusted.
AdvanceElite removal
Windows XP
Click the Start menu and then select Control Panel.
Click Add or Remove Programs.
Select the suspicious application.
Click the Remove button.
Windows 7 and Vista
Open the menu and then access Control Panel.
Click Uninstall a program.
Select the program that you wish to erase.
Click Uninstall.
Windows 8
Right-click on the background after accessing the Metro UI menu.
Select All apps.
Locate Control Panel and then select it.
Go to Uninstall a program.
Find AdvanceElite and right-click on it.
Click Uninstall.
In non-techie terms:
Different kinds of undesirable applications might slither onto your computer if you keep it unprotected. Thus, we highly recommend that you install an antimalware tool, for instance, SpyHunter on the system and keep it always enabled. On top of that, you should be very cautious all the time in order not to install unreliable programs yourself.