Do you know what Advanced PC Tuneup is?
Have you downloaded Advanced PC Tuneup onto your PC expecting it to enhance the performance of your operating system? If that is the case, we have bad news: This program is not beneficial. Though it promises to make your computer run faster after removing allegedly serious registry errors, our research team warns that this app can only detect errors that are not critical and, therefore, are unlikely to jeopardize your system's performance. While this program does not identify fake issues, it can represent them in a manner that might get you worried. Overall, we do not classify this app as a dangerous threat. That does not mean that you should continue using it. In fact, we classify it as a potentially unwanted program, and we hope that you have not invested in its useless services yet. If you want to learn how to delete Advanced PC Tuneup from your PC, you are in the right place because we have the information you need.
How did you install Advanced PC Tuneup onto your computer? It is possible that you have downloaded it from advancedpctuneup.com, but it is unlikely. In most cases, this potentially unwanted program is spread by third-party software distributors who can package multiple programs together. For example, you might execute an installer that promotes the PUP along with search.realcoolmovie.com (a browser hijacker) and other unreliable pieces of software. Hopefully, you will not face malware, but no one is protected against that. Have you installed Advanced PC Tuneup after a pop-up showed up warning you about registry errors and problems? The marketing techniques used to promote the PUP are considered to be quite aggressive, and you should not believe everything that you are told. Sure, your registry might use a tune up, but you should use reliable and beneficial tools, not some bogus PUPs. Worst of all, the unreliable application will ask you to pay money for its questionable services, and that is not something you should do.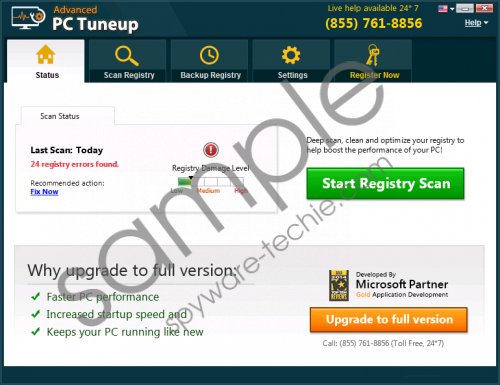 Advanced PC Tuneup screenshot
Scroll down for full removal instructions
There is no doubt that you have downloaded Advanced PC Tuneup for free. Once this program enters your PC, it immediately scans your operating system to find errors that are categorized as "System related errors," "Com and ActiveX errors," "User related errors," or "Startup and Uninstall errors." If you try to click the "Fix Issues" button represented at the bottom of the scanner, you will be asked to purchase the licensed version of Advanced PC Tuneup. At the moment, it is retailed at $39.95, and you have to ask yourself if the services provided are worth this much money? We do not believe that they are. If you decide to call the helpline supporting the PUP at (855) 761-8856, make sure you beware of hidden fees. Also, be ready to speak to someone who will try to sell you more products and services that you do not need. If you are not ready for that, refrain from calling this number altogether.
Have you decided to remove Advanced PC Tuneup from your operating system? If you have, you can use the instructions below to uninstall this PUP from your Windows operating system. Before that, you should install a malware scanner to examine your PC and check which other threats exist. If you find that you cannot erase them yourself, do not waste your time with the PUP either because you will probably end up installing an automated anti-malware tool anyway. Do not hesitate to install it because it is irreplaceable when it comes to the protection of your operating system, and you need its protection if you want to prevent unreliable programs and malware from entering again.
Delete Advanced PC Tuneup
Windows XP:
Click the Start button on the left of the Taskbar and select Control Panel.
Double-click Add or Remove Programs to find all uninstallers.
Identify the undesirable application, click it, and choose Remove.
Windows Vista/Windows 7:
Click the Windows logo on the Taskbar and open the Control Panel menu.
Go to Programs and then click Uninstall a program.
Right-click the undesirable program and click Uninstall.
Windows 8/Windows 10:
Tap Win+R keys on the keyboard to launch RUN.
Enter Control Panel to open a menu and then go to Uninstall a program.
Locate the unwanted program, right-click it, and choose Uninstall.
In non-techie terms:
Even though Advanced PC Tuneup might seem to offer beneficial services, they are not all that great. Moreover, you will be asked to pay quite a lot of money for these services, and they are not worth it. Instead of investing your time and your savings into this potentially unwanted program, you should replace it with a better and more useful tool. First, you need to remove PUP, and we offer two different methods. If you scan your PC and you realize that all active threats can be erased manually, use the guide above to get rid of the unwanted app. If you face more complicated threats, and if you need further protection, we suggest employing legitimate anti-malware software.