Do you know what Advanced Identity Protector is?
Advanced Identity Protector is a tool that promises to protect users against identity theft. It can be downloaded directly from its official website http://www.advancedidentityprotector.com/, and, as research has shown, it is compatible with all the newest versions of the Windows OS, including Windows 10/8.1/8/7 Vista and XP. We are sure there are users who willingly download this program from its official website, but research conducted by our experienced specialists has also shown that it might be installed on users' computers without their knowledge next to other programs that are not associated with it in any way. Fully reliable programs are never spread bundled, so we have decided to classify Advanced Identity Protector as a potentially unwanted program, or PUP. Of course, it is not the only reason it is not considered a fully reliable application. You should read the rest of this article to find out more about this program. When you get more knowledge more about it, it will be easier to decide whether or not it can stay installed. If you ask our opinion, we do not recommend keeping potentially unwanted programs active on the system even though they are not considered real malware.
Advanced Identity Protector claims that it can "prevent identity theft." We have to admit that it does look like a beneficial program. Once installed, it immediately performs a system scan and lists all data that might be used to identify or impersonate users. Unfortunately, its free version that many users download from its official website only works as a diagnostic scanner. To put it differently, it does not fix any privacy-related issues. If you want it to wipe out traces of personal information that can be stolen from the system for you or you want to be able to encrypt and securely store sensitive information, you will need to purchase its license, i.e. upgrade the program. The full price of the license is $49.95, but you might be able to get it at a special download price of $29.95. In our opinion, users should not invest money in the license of the potentially unwanted program because there are so many other tools with similar features that are fully reliable available on the market. Additionally, we cannot guarantee that this program will act as it promises after you buy its license and upgrade it. Of course, you are the one who can make the final decision in this case. If you decide not to upgrade Advanced Identity Protector, we see no reason why you should keep it active on your computer. Specialists say that the program will start working automatically every time your Windows OS loads up if you keep it installed on your computer. Also, it will get updates periodically.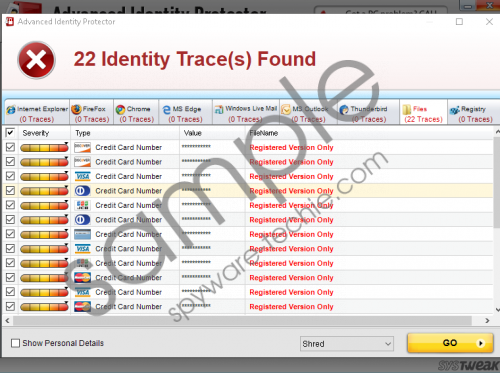 Advanced Identity Protector screenshot
Scroll down for full removal instructions
A bunch of applications developed by the Systweak company are considered potentially unwanted programs. Specialists put these programs into this category not without reason, of course. One of the reasons they are not considered trustworthy software is the fact that they might appear on users' computers without their knowledge, which is not typical for reputable applications. Researchers say that they are usually distributed bundled with various applications that belong to third parties. This explains why so many users do not know anything about their installation. Advanced Identity Protector is no exception – it could have been installed on your PC together with other programs as well. If you have not found it beneficial, or you are simply not going to upgrade it, you should delete it from your computer today.
Luckily, Advanced Identity Protector is not a harmful malicious application, so its removal is not complicated at all either. Specifically speaking, it can be erased through Control Panel. We suspect that this does not tell you much if you have never deleted any application from the system yourself, so we have also prepared the step-by-step manual removal guide. Feel free to use it. Alternatively, you can use an automated scanner to clean your system.
Remove Advanced Identity Protector
Windows XP
Click Start.
Click Control Panel.
Click Add or Remove Programs.
Select Advanced Identity Protector and click Remove.
Windows 7/8/8.1/10
Press Win+R.
Enter Control Panel in the command line.
Press Enter.
Click Uninstall a program.
Select Advanced Identity Protector and click the Uninstall button.
In non-techie terms:
Advanced Identity Protector is not a fully trustworthy application even though it claims that it can easily prevent identity theft. Instead, it is considered a potentially unwanted program by many specialists. One of the main reasons it has fallen into this category is the fact that it can slither onto users' computers without their knowledge. Second, there is a slight possibility that it might show scan results that are far from reality in order to convince users to purchase the license, i.e. upgrade the program. Yes, its free version works only as a diagnostic scanner.