Do you know what Advance PC Protector is?
Advance PC Protector is a system optimization tool that has been categorized as a potentially unwanted program. In other words, this application is not a malicious infection, but it might get installed on your computer accidentally, and if that happens, it would be for the best to remove Advance PC Protector at once.
We are not trying to say that this program is dangerous or malicious. Far from it. But you always have to ask yourself whether the program is there because you need it or because it simply got lucky and was installed on your PC along with something else.
Our research team says that Advance PC Protector is very similar to all the other optimization tools you may encounter on the web. Their main purpose is to sell the product rather than to improve your system's performance. Of course, it is only natural that any developer wants to sell their program, but the question is whether that program delivers what it promises. And we cannot be 100% sure that Advance PC Protector really fixes all the errors it detects on your system. Our research team also says that the errors this program finds may not be critical.
To tell you the truth, very often it is possible to simply delete junk files and browser cookies manually. For instance, if you regularly delete web browsing data, it would automatically improve your browser's performance. In other words, you do not need a third-party program for that. Although using a program might seem faster and more efficient (especially if you do not know well how your system functions), it could also prove to be counter-productive, especially if the program takes up space, but does not provide you with crucial service.
You can probably tell that we are carefully balancing between "yes" and "no" here. That is because it is not possible to categorize Advance PC Protector as a malicious infection. Also, it cannot be added to your system without your permission, so you either download it from advancepcprotector.com or it comes bundled with freeware applications from file-sharing websites. Either way, the bottom line is that you download and install this application willingly, although you might not be aware of that. Hence, it is necessary to remain attentive during freeware installation because you can often choose whether you want to add additional programs to your system or not.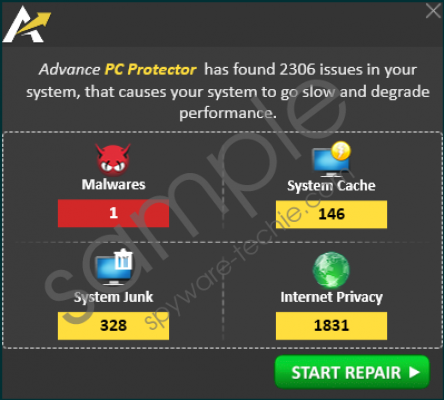 Advance PC Protector screenshot
Scroll down for full removal instructions
The authors of this program say that Advance PC Protector is "an all-in-one PC optimization and PC protection utility. It provides you the most powerful junk cleaning and privacy protection and makes your computer run like brand new!" As you can see, the English in this quote is rather sketchy, so it is somewhat doubtful whether the program can really live up to its promises. Also, you cannot just check whether this optimization tool works properly unless you purchase the full version of the application. The full version costs 39.99 USD for the annual subscription, 49.99 USD for the 18-month subscription, and 24.99 USD for a half a year subscription. It is up for the users to choose which type of subscription they want, but then again, if you did not intend to install this application, you may not want to purchase it in the first place.
We would also like to point out that if you did not want to install Advance PC Protector, you might want to scan your computer with the SpyHunter free scanner right now. If you often visit freeware-sharing websites, there could be quite a few unwanted applications on your computer, so it would be for the best to delete them all. A full system scan will help you determine which programs must be removed.
As for Advance PC Protector, you can remove the application via Control Panel, but it will leave a few leftovers, so you will have to take care of it, too. If you do not want to do it manually, you can get rid of this program automatically with a security tool. Please follow the instructions below to remove Advance PC Protector. To avoid similar intruders in the future, be careful about what you download from file-sharing websites.
How to Remove Advance PC Protector
Windows 10, Windows 8.1, Windows 7 & Windows Vista
Press Win+R and type Control Panel. Click OK.
Open Uninstall a program and remove the application.
Windows XP
Open the Start menu and select Control panel.
Go to Add or remove programs and uninstall the application.
Remove Leftover Files
Press Win+R and type %PROGRAMFILES(x86)%. Click OK.
Remove the AKick folder. Press Win+R again.
Type %PROGRAMFILES% into the Open box and click OK.
Remove the AKick folder. Press Win+R again.
Enter %AppData% and click OK.
Remove the Software Inc folder from the directory.
Press Win+R and type regedit. Click OK.
Go to HKEY_LOCAL_MACHINE\SOFTWARE.
Remove the AKick key under Software.
Go to HKEY_LOCAL_MACHINE\SOFTWARE\Wow6432Node.
Remove the Akick key under Wow6432Node.
Scan your computer with SpyHunter.
In non-techie terms:
Advance PC Protector is a potentially unwanted program because it can enter a target system through third-party sources. Users may be not aware that they have installed this system optimizer. Therefore, it can be shocking to find this program running.
Nevertheless, Advance PC Protector is not a dangerous infection, and it is not complicated to remove it. Please make sure you terminate all the leftover files when you uninstall the application. For clean removal, consider employing a licensed antispyware tool.