Do you know what "Ads by Media Buzz" are?
"Ads by Media Buzz" is the label of pop-up advertisements, in-line advertisements, and web banners displayed by the adware program Media Buzz, which is compatible with Internet Explorer, Mozilla Firefox and other popular Internet browsers. This adware program is installed along with programs distributed by Amonetize installers, and Amonetize is a software publisher and advertisers whose goal is to help software developers and webmasters reach their target audience and increase the conversion rates. Media Buzz has been found to be bundled with BitcoinMinder, Conduit Search, and Surftastic, which is a browser add-on developed by SuperWeb.
Media Buzz displays distinct advertisements, which differ in format and purpose. For example, you can find that "Ads by Media Buzz" promote commercial websites, websites dealing with social issues, websites for job seekers, etc. Not all of the ads that are labeled "Ads by Media Buzz" are unreliable, but you should be very careful when interacting with them because Media Buzz is not liable for third party advertisements and third parties' actions. Moreover, Media Buzz does not endorse those third parties, so if you do not want to risk you privacy, you should be very careful on the websites to which you are taken by the so-called "Ads by Media Buzz".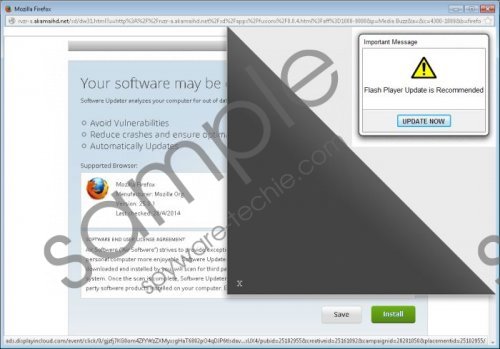 Ads by Media Buzz screenshot
Scroll down for full removal instructions
The term "Ads by Media Buzz" involves pop-up ads that do not carry the label but are displayed by Media Buzz. It has been observed that Media Buzz displays advertisements inviting users to update Internet browsers or install a video downloader or a media player. It is highly advisable to ignore such recommendations because you are taken to software distributors which, most of the time, are not authorized by the developers of the software program that you are offered. Moreover, in addition to the update, or instead of it, you are required to install some additional programs, some of which may be absolutely useless and even harmful. Here is how some of the ads displayed by Media Buzz may look like:
UPDATES RECOMMENDED! It is recommended that you install the software to ensure browser is the latest version. Please update to continue.

You are currently browsing the web with and your Video Player might be outdated.
These recommendations should be disregarded in order to prevent additional programs, some of which may negatively affect the performance of your computer. Such deceptive notifications can be send from several advertising servers, one of which is rvzr-a.akamaidh.net.
The "Ads by Media Buzz" pop-ups cannot damage your computer, but some damage may be inflicted to your PC if you follow the recommendations provided in those pop-ups. We recommend that you remove Media Buzz from the computer because the application may collect information about your browsing behavior and share the data collected with other parties.
You can easily get rid of the "Ads by Media Buzz" pop-ups with the help of a powerful spyware removal. Below you will find our removal guide which should help you uninstall Media Buzz and any other undesirable program, but we recommend that you implement SpyHunter. This real-time spyware and malware prevention tool can easily eliminate the adware program so that you are not provided with the "Ads by Media Buzz" web banners and pop-ups. Moreover, the anti-malware tool will protect your operating system against browser hijackers, ransomware infections, Trojan horses, and other malicious programs.
How to remove "Ads by Media Buzz"
Windows Vista and Windows 7
Click Start.
Select Control Panel.
Click Uninstall a program.
Remove the unwanted application.
Windows XP
Open the Start menu.
Click Control Panel.
Select the Add or Remove Programs option.
Uninstall Media Buzz.
Windows 8
Move the mouse pointer to the lower-left corner of the screen.
Right-click.
Select Control Panel.
Click Uninstall a program.
Remove the adware program.
In non-techie terms:
After removing Media Buzz, do not forget to scan the computer to makes sure that the system contains no malicious files.