Do you know what Ads By Ineedspeed are?
Ads By Ineedspeed are pop-ups and constant redirections generated by Ineedspeed adware application. This program may also be considered a potentially unwanted application because its primary function is to measure your upload and download speed. However, its secondary functions are more explicit because Ineedspeed constantly displays commercial advertisements when you access the Internet. This program may accidentally expose you to further adware infection, so you have to terminate Ads By Ineedspeed and the program itself before any of that happens. Do take your computer security seriously.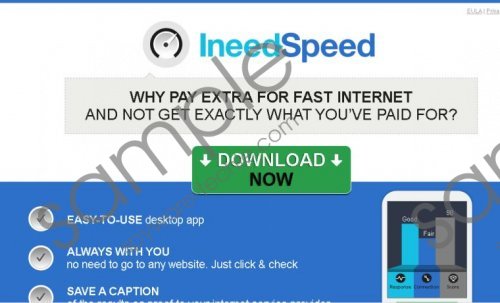 Ads By Ineedspeed screenshot
Scroll down for full removal instructions
Our research lab team says that Ineedspeed is a variation of Lyrics type adware. That puts this application into the same group with Lyrics Money, Boby Lyrics, Lyrics Fan and other similar applications. What is more, it is identical to CheckMeUp and SpeedChecker adware applications that also get promoted as programs that can measure your internet speed. As such, Ineedspeed is very similar to VeriBrowse, Passwidget, Remarkit and other potentially unwanted applications that seem to provide users with useful function, but in reality they just collect data on your web browsing habits and then expose you to various commercial advertisements full of third-party content.
It is not clear whether Ineedspeed really helps you measure the internet speed correctly. If you really must check your Internet speed, you can do it by referring to popular speed tests online. There is no use to keep an application that barely works and uses up your system resources. What is more, Ads By Ineedspeed can be excruciatingly annoying because they appear in various forms. When this adware application is installed on your computer, each time you access the Internet you will see pop-ups, shopping offers, in-text advertisements and so on. Do not be surprised to see various online surveys and even Flash or Java update offers on new tabs. Ads By Ineedspeed could be part of adware promotion network, so the best you can do in this situation is avoid clicking them altogether.
Luckily, it is not hard to remove Ads By Ineedspeed from your computer. It is possible uninstall Ineedspeed via Control Panel. There is a high chance that you installed this application onto your PC together with a number of other unwanted applications. After all, it is not possible to download Ineedspeed at ineedspeed.co. Hence, it is clear that this program gets distributed bundled with freeware.
When you uninstall this application, get yourself a reliable antispyware tool that will help you run a full system scan. This way you will be able to determine whether your PC is absolutely safe and clean.
Manual Ads By Ineedspeed Removal
Windows 8
Move mouse cursor to the bottom right of the screen.
When Charm bar appears click Settings and go to Control panel.
Open Uninstall a program and remove Ineedspeed.
Windows Vista & Windows 7
Open Start menu and select Control Panel.
Go to Uninstall a program and remove Ineedspeed.
Windows XP
Click Start menu button and navigate to Control Panel.
Select Add or remove programs and uninstall Ineedspeed.
In non-techie terms:
Ads By Ineedspeed are annoying and they can redirect you to potentially corrupted websites. You need to remove Ineedspeed adware application from your computer so that these ads would disappear for good. For alternative software removal method, do not hesitate to refer to the secondary set of instructions below this description.