Do you know what Ads by Cinemax are?
Ads by Cinemax are commercial advertisements that appear onto your screen when you access supported websites. These ads are generated by a program called Cinemax. Users accidentally install Cinemax on their computer when they click download links for fake Flash or Media player updates. If you happen to have this application on your system, it is in your best interest to remove Cinemax for good, and then terminate all the related files and applications. For the exact list of unnecessary programs, scan the PC with a licensed antispyware tool.
One would expect an adware application to have an official website at least, but Cinemax is one of those that do not have a functioning homepage. It means that Naruto Space (the creators of this application) distribute their software through other means. As it has been mentioned above, Cinemax usually arrives bundled with other freeware applications via fake player or plug-in update downloads. Thus, the best way to avoid adware infection is to refrain from downloading software from unknown third-party websites.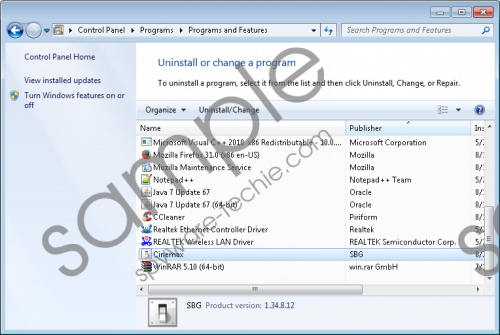 Ads by Cinemax screenshot
Scroll down for full removal instructions
The official website for Ads by Cinemax is supposed to be located at cinemaxme.com, but it is currently unavailable. Some users may also think that Ads by Cinemax have something to do with cinemax.com, but this website is in no way related to this adware application. The program that generates annoying ads on your browser is based on Crossrider engine, and it is often consider adware helper. It means that it connects to the Internet behind your back and collects information your web browsing habits so that it could generate relevant content for Ads by Cinemax.
Judging from its behavior, this adware application is very similar to HQvideo and plusHD browser extensions. When Cinemax gets installed on your PC, it adds add-ons to Internet Explorer and Mozilla Firefox web browsers. In the long run, it can slow down your browser and expose you to potential computer security threats, so you should not tolerate Ads by Cinemax.
If you see Ads by Cinemax appear on your browser, open Control Panel and check whether you Cinemax installed on the PC. If so, delete the program immediately, and then check for other unwanted programs that could be residing in your system. In case you are not sure which programs are not welcome, scan the PC with SpyHunter free scanner, and you will be presented with the list of potentially unwanted apps in no time.
Should you have any questions regarding Ads by Cinemax removal, or your computer security in general, you can always leave us a comment. Also, do not hesitate to invest in a reliable computer security application if necessary.
How to remove Ads by Cinemax
Windows 8
Drag mouse cursor to the bottom right of your screen.
Wait for Charm bar to appear and then click Settings.
Open Control Panel and go to Uninstall a program.
Highlight Cinemax and click Uninstall.
Windows Vista & Windows 7
Click Start menu and go to Control Panel.
Select Uninstall a program and remove Cinemax.
Windows XP
Press Windows key and navigate to Control Panel.
Access Add or remove programs and uninstall Cinemax.
In non-techie terms:
Ads by Cinemax will slow down your browser and expose you to potentially corrupted content. You need to remove Cinemax and all the other adware applications that could be possible installed on your PC. For alternative adware removal method, please check out the additional set of instructions below this article.