Do you know what Ads by Brown Bark is?
Ads by Brown Bark will be the reason your browser is flooded with numerous adverts and annoying pop-ups, but that is not surprising because Ads by Brown Bark is an adware application. Just like many analog applications, Ads by Brown Bark is marketed as a convenient tool that will enhance the experience of online shopping significantly. Sadly, it is just a marketing gimmick used to manipulate users into installing this worthless application. The only rational thing that you should do about Ads by Brown Bark is to remove it without hesitation as it actually is a major virtual threat. Until you delete Ads by Brown Bark you risk infecting your PC with other unknown malware as this adware program could be used as a backdoor by other internet-based infections. Malware experts at Spyware-Techie.com have prepared a detailed removal guide that will delete Ads by Brown Bark completely.
Usually applications like Ads by Brown Bark are distributed via bundled software. There are a few steps that you can take to prevent infecting your PC in this or any manner. Avoid any website associated with online piracy. Moreover, do not download any programs from unauthorized publishers. All your software should be downloaded from official vendors' websites only. Last but not least, our research team recommends installing a trustworthy malware detection and removal tool that will safeguard your PC against any potential virtual threats as well as it will ease the removal processes significantly. Practicing safe browsing habits and running a professional antimalware tool will make your system virtually unbreakable.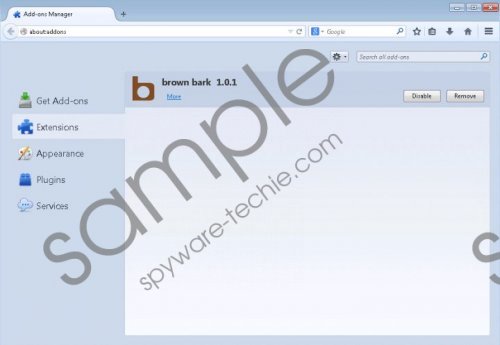 Ads by Brown Bark screenshot
Scroll down for full removal instructions
Ads by Brown Bark is compatible with browsers such as Mozilla Firefox and Internet Explorer. Therefore, once it enters your operating system, these browsers will be flooded with numerous useless adverts and pop-ups. That will make surfing the web a frustrating task. But that is not all that this invasive application does. It is very likely that you will be exposed to potentially detrimental websites due to Ads by Brown Bark. It was noticed that some adverts contain redirect links to suspicious websites. These websites could be hosting numerous malware, and your system could get infected in just a few seconds. Delete Ads by Brown Bark ASAP as it is the only way to regain the normal functionality of your browser. It should go without saying that Ads by Brown Bark removal is essential for any security conscious user.
The removal of Ads by Brown Bark via Control Panel is effective, but our research team at Spyware-Techie.com noticed that in some cases traces of the infection were still present on the PC. Therefore, a thorough analysis of your system for any leftovers of Ads by Brown Bark is essential as the infection could restore itself by using just a few files or registry entries.
How to remove Ads by Brown Bark from your PC
Remove Ads by Brown Bark from Windows 8
Tap the Windows key+Q on your keyboard.
Now type Control Panel into the search box.
Tap Enter and then select Uninstall a program.
Select Brown Bark and click Uninstall.
Remove Ads by Brown Bark from Windows 7 and Windows Vista
Click the Windows button and select Control Panel.
Now select Uninstall a program.
Right-click Brown Bark and click Uninstall.
Remove Brown Bark from Windows XP
Click the Start button.
Click Control Panel.
Select Add or Remove Programs.
Select and remove Brown Bark.
In non-techie terms:
A seemingly harmless adware application like Ads by Brown Bark could be the cause of other internet-based infections entering your operating system. If you wish to avoid that and keep your system secure, please follow the instructions below.