Do you know what ADClick is?
ADClick is a very annoying advertising-supported application (adware). In most cases, it sneaks onto computers without permission and then starts performing its undesirable activities. It has been observed that this program will show commercial advertisements mainly. It is known that they might take a variety of forms; however, there is still no doubt that you will mainly see pop-up advertisements on the screen. It is not so easy to eliminate them all because ADClick cannot be removed via Control Panel. Luckily, it is still possible to remove this infection in a manual way. If you want to find out more about the removal process, you need to read this article carefully. After doing that, follow the manual removal instructions step by step and remove this ad-supported program fully.
If you read this article, you will find out why you need to get rid of ADClick. First of all, we do not recommend keeping this adware installed because it will keep showing advertisements in the lower-right corner of your Desktop. These ads might appear at any time, and they will not disappear themselves, which means that you will have to close them yourself every day. We also want to inform you that advertisements displayed by ADClick adware might be quite dangerous too. Therefore, it is better not to click on any of them if you do not want to be taken to unreliable third-party web pages.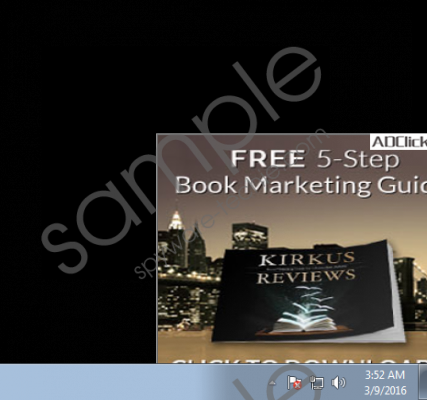 ADClick screenshot
Scroll down for full removal instructions
We are sure that this application will also collect details about users in order to be able to present them with relevant commercial advertisements. ADClick seeks to provide ads based on the users' interests in order to lure them into clicking on them. We are 99% sure that the publisher of ADClick gets money for that, and this program has been developed to generate money only. According to researchers, the majority of advertising-supported applications gather IP address, search queries, websites users visit, the content they access, and other technical information about the system, so ADClick should act very similarly. Unfortunately, adware programs might also violate the privacy because some of them record personal information too, so we suggest that you do not keep any of them on board. Yes, it would be best to remove ADClick too.
Furthermore, ADClick will create the task called osTip and will place it in C:\Windows\System32\Tasks in order to launch at particular times. On top of that, it will create the Value osmsg with the Value data C:\ProgramData\WindowsMsg\osmsg.exe in order to start the moment Windows OS loads up. It has been observed that this adware will also create two registry keys, i.e. HKEY_CURRENT_USER\SOFTWARE\osTip and HKEY_LOCAL_MACHINE\SOFTWARE\Microsoft\Windows NT\CurrentVersion\Schedule\TaskCache\Tree\osTip too. Unfortunately, this means that you will have to eliminate those registry keys yourself in order to delete adware from the system.
It is impossible to download this advertising-supported application from its official website because it does not have one, and it is usually spread in software bundles together with other applications, e.g. TTWiFi. Unfortunately, not all the programs that travel together with this adware are trustworthy, so we suggest scanning the system with a diagnostic scanner even if you successfully remove ADClick manually. The diagnostic tool can be downloaded from our web page, and it will detect all the unreliable programs installed on your PC quickly.
ADClick should not be kept on the system for the sake of the system's safety, so the sooner you remove it, the better. Specialists say that it is rather hard to do that because this program does not have an uninstall entry, but it is, of course, possible to do that – follow instructions you will find below step by step. You can also use an automatic malware remover, such as SpyHunter for this matter too.
Remove ADClick
Launch RUN.
Enter regedit.exe and click OK.
Right-click on HKEY_CURRENT_USER\SOFTWARE\osTip and select Delete.
Right-click on HKEY_LOCAL_MACHINE\SOFTWARE\Microsoft\Windows NT\CurrentVersion\Schedule\TaskCache\Tree\osTip and Delete it.
Move to HKEY_CURRENT_USER\Software\Microsoft\Windows\CurrentVersion\Run and find the osmsg Value.
Right-click on it and select Delete.
Go to C:\ProgramData\WindowsMsg, find osmsg.exe, and then remove it.
Move to C:\Windows\System32\Tasks.
Delete osTip.
In non-techie terms:
To protect your system from adware and other undesirable programs, you have to install a security tool on your computer. On top of that, it is advisable not to download undesirable software from unreliable sources. Last but not least, install new programs carefully, i.e. read all the information provided for you in the setup wizard, Privacy Policy, and End User License Agreement documents. Finally, find out whether the program you want to install on your PC is really trustworthy.