Do you know what Ad Expert Browser is?
If you ever detect Ad Expert Browser on your computer, you should know that it is advisable to get rid of it as soon as possible because this program will not do anything beneficial for you. The specialists of spyware-techie.com have found out that this program has some characteristics of a Trojan, a bot, and an advertising-supported application. It means that it will perform different kinds of undesirable activities and might even cause you inconvenience, which is why you should delete this program from the system as soon as possible. Continue reading the article and find out why and how to get rid of Ad Expert Browser program.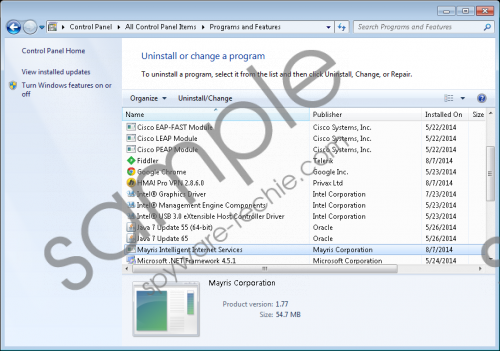 Ad Expert Browser screenshot
Scroll down for full removal instructions
Computer users who will not delete Ad Expert Browser from the system might notice that their computers have started running slower than usual. Besides, it takes more time to access various websites. The main reason why it is so is the fact that Ad Expert Browser is using your computer's resources, especially RAM and CPU. The specialists of spyware-techie.com have tested Ad Expert Browser in their lab and found out that it might search for pay-per-search services, silently click on the ads in the background, and do other suspicious activities behind your back. As it uses an incredible amount of resources, it might be very true that users who own older computers will not be able to use them unless they delete Ad Expert Browser from the system.
The research implemented by the specialists of spyware-techie.com has shown that Ad Expert Browser usually travels bundled with such programs as istartsearch, AllDaySavings, MyBestOfferToday, OffersWizard, and Plus-HD. Thus, you should better check whether they are not residing on your system as well. If it happens that you detect any of them on your computer, you should delete them together with Ad Expert Browser because these programs seem to be unreliable as well.
If you are ready to eliminate Ad Expert Browser from the system, you should follow the instructions provided below the article. Another solution is to acquire a licensed malware remover and then scan your system with it. The second alternative is very suitable for those computer users who want to remove this dangerous application in a blink of an eye. We are keen on automatic tools as well because they will protect the system from future threats as well.
Ad Expert Browser removal
Windows XP
Click the Start button.
Open the Control Panel and then go to Add or Remove Programs.
Select the undesirable software and then click the Remove button.
Windows 7 and Vista
Open the Start menu.
Select Control Panel.
Click Uninstall a program.
Right-click on Ad Expert Browser.
Click the Uninstall button.
Windows 8
Find the Windows key on your keyboard and press it.
Start typing Control Panel.
Click on its icon.
Go to Uninstall a program.
Click on the suspicious program.
Click Uninstall.
In non-techie terms:
Cyber criminals release plenty of undesirable programs every day; thus, it is very important to keep your system protected in order not to allow malware slither into your computer. One of the most effective solutions is, of course, to install a security tool on the system. In addition, you should also never download programs from doubtful sources because they tend to be modified to a great extent.