Do you know what Ace Race is?
Ace Race is an adware application that claims to optimize your Internet search results. In reality, this SuperWeb LLC product only serves to annoy you with constant disruptions of your Internet browsing by showing commercial advertisements. If you notice annoying pop-ups, banners, or other advertisements on your web browser that are signed "Ads by Ace Race" or "Provided by Ace Race", you have Ace Race on your computer. Seeing as it doesn't really do anything truly worthwhile, we urge you to remove Ace Race from your system.
When installed on your system, Ace Race gains access to your Internet Explorer or Mozilla Firefox web browser (the newest version of Google Chrome seems to block it) and starts tracking the things you search for on shopping websites and the Internet in general. Ace Race remembers this information and uses it to tailor the types of commercial advertisements it shows you according to your hobbies. This is needed to increase the chance that you will click one of Ace Race's ads, because once you do, SuperWeb LLC gets paid a little bit of money for increasing web traffic to that particular website. Unfortunately, you don't get anything except more ads for the part you played in this. We don't find this fair, so you should remove Ace Race from your system.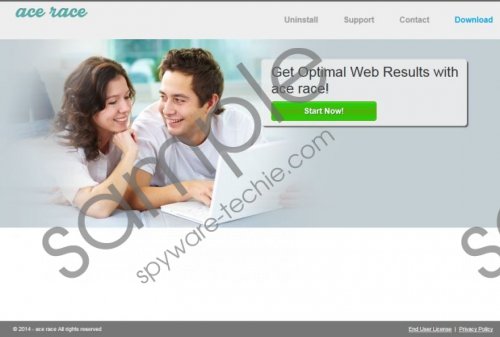 Ace Race screenshot
Scroll down for full removal instructions
While to some people ads by Ace Race could look harmless, if annoying, this adware application does indirectly provide some dangers. The most immediate problem is that the SuperWeb LLC disclaims any responsibility for its third party partners' actions and privacy policies. Ace Race developers don't care if their ads link to websites that contain more adware or even actual malware that could harm your computer.
The second security concern is Ace Race's distribution method. It's distributed via freeware bundles. They work by taking a useful program and adding some additional optional applications to the setup. If you leave checked boxes offering to install all of it, you might have various adware, toolbars, or even browser hijackers on your system at the end. Seeing as vulnerabilities breed other vulnerabilities, the best way to deal with annoyances like Ace Race is to remove it immediately upon discovery.
While you can uninstall Ace Race manually, it's better to do it automatically, because a full system scan with a trustworthy antispyware program will discover any and all threats and remove them with a click of your mouse. If you insist on doing it yourself, the instructions are included below.
Ace Race Removal
Windows 8
1. Right-click the bottom-left corner of you Desktop and go to Control Panel.
2. Click Uninstall a program, select Ace Race, and click Uninstall.
Windows 7 and Windows Vista
1. Click the Windows button, go to Control Panel, and click Uninstall a program.
2. Uninstall Ace Race.
Windows XP
1. Click Start and go to Control Panel.
2. Click Add or Remove Programs and select Ace Race.
3. Click Remove.
In non-techie terms:
Ace Race is an adware application developed by SuperWeb LLC. Its only function is to track your web browsing and show you tailor-made commercial advertisements in an effort to get you to click on them. Once you do, developers get paid and you get nothing. This application should be removed, because its ads could link you to untrustworthy websites. Also, if you have this program on your system, the bundle that contained it could have brought more annoying applications. Our recommendation is to remove Ace Race as soon as possible.