Do you know what Access Your Coupons is?
Access Your Coupons is a potentially unwanted program that might enter your system accidentally. On the surface, it looks like a good app that can help you save money when you shop around. However, even if the program looks okay, you shouldn't tolerate it if it sits on your browser just like that. What we mean is that you should make sure that all the programs you have on your computer are the ones that you installed willingly. If you didn't plan to have this extension, you might as well remove Access Your Coupons from your browser right now.
Let's see why this extension might reach your browser when you don't expect it at all. For one, programs like Access Your Coupons always have official distribution sources. Sometimes they can be added to your browser through the main website, and they also are often available on the Chrome Web Store. For instance, if you access frugalshark.com, you will be greeted with a page that offers adding the coupon extension to your browser. So, it doesn't look like there's anything malicious or illegal about it. So, why are we still talking about this extension like it's a security threat?
That's because it could also be distributed through software bundles and redirects. In other words, if you often visit websites that are always full of commercial content and various advertisements, you might accidentally get exposed to pop-ups and redirects that distribute Access Your Coupons and other similar programs. Therefore, you need to be aware of where you land when you browse the web. For the most part, it is possible to avoid unwanted applications, and you can always double-check the steps in installation wizards when you set up new programs. If it offers some products you don't need, deselect them at once.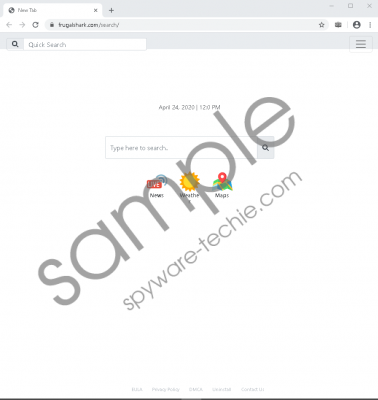 Access Your Coupons screenshot
Scroll down for full removal instructions
If we take a look at the official stance of this application, we can see that it presents itself as a really useful tool. It says that "Frugal Shark configures your browser to provide access to coupon websites while also providing you with custom web search on your new tab." It means that when this extension gets added to your browser, it modifies your new tab settings. It doesn't mean, however, that the app does that without your permission. You do agree to that, even if you are not aware of the permissions you give.
Aside from that, Access Your Coupons also tells you to "shop big, save big with Frugal Shark." Supposedly, if you use this extension, you can "get one-click access to leading discounts and offer sites directly on your browser's new tab." And you can also "share your best finds with friends and family with link access to social" media. All in all, the app sounds like a good deal, but there's definitely a catch.
One, its distribution through third-party sources. And two, its tendency to collect web browsing information. Of course, such applications need to collect data on your web browsing habits so that they could display customized coupon offers. That is very common, and there's nothing illegal about that. Nevertheless, Access Your Coupons does not review the third-party content it promotes to you. Also, it cannot control who uses the data it collected. Albeit the app cannot record your personal information, all the web browsing patterns could still be used in shady online marketing tactics. Not to mention that there's always a chance that a malware program could exploit Access Your Coupons, too, no matter how slim that chance is. Hence, the sooner you remove Access Your Coupons from your PC, the better.
You can remove this application by deleting it via the Chrome settings menu. It's also possible to reset your browser settings to default but not everyone would be willing to do that because it would entail deleting all the saved shortcuts and bookmarks. You can also consider scanning your system with a licensed antispyware tool. If there are more unwanted applications on-board, a full system scan will definitely help you locate them. You can also remove them all with a security application of your choice. However, don't forget that a security tool cannot protect you from serious threats if you do not change your web browsing habits.
How to Delete Access Your Coupons
Launch the Chrome browser.
Press Alt+F and go to More tools.
Click Extensions.
Locate Access Your Coupons and click Remove.
In non-techie terms:
Access Your Coupons is there to help you find the best coupon offers. Who wouldn't want to get great deals and save some cash, right? But maybe you should look for something else than this extension. Computer security experts recommend removing Access Your Coupons from your browser because the extension might inadvertently lead you to dangerous content. If you want to remove this and other unwanted apps, do not hesitate to invest in a powerful antispyware tool.