Do you know what "Access to your computer was denied" virus is?
"Access to your computer was denied" virus is an infection that uses deceptive scare tactics and camouflaged blackmailing strategies to collect money from Windows users, whose systems are not resistant to secretly invading Trojans. The ransomware virus is often managed via active Trojans, which can download the malignant program or initiate adware and social engineering scams to slip it in. Nonetheless, what matters most is how you will remove "Access to your computer was denied" virus and the following information will provide you with an insight to the operation.
Even if the malignant virus has not yet invaded your computer, you can be sure that another version of Ukash or Paysafecard virus could target your operating Windows system soon enough. Such infamous ransomware infections as Polícia de Segurança Pública Portuguese virus, Der zugang zu ihrem computer wurde gesperrt virus or the Canadian Police Association Virus all belong to the same category of malware. These infections are targeted at Windows systems, can use security vulnerabilities to enter the PC, and have been created to lure out your money with the help of legitimate names of well-known cyber security departments. The story is exactly the same with the "Access to your computer was denied" virus, which is allegedly supported by GEMA, a German society for music performing rights. Even though this company guards the rights of musicians in Germany, this has not stopped the schemers from targeting other European countries. Which is why you should not be surprised to see the following fake notification in a different language.
Der Zugang zu Ihrem Computer wurde gesperrt.
Auf Ihrem Computer wurden illegal heruntergeladene Musikstücke ("Raubkopien") gefunden.
Durch den Download wurden die Musikstücke vervielfältigt, so dass ebenfalls eine Strafbarkeit gemäß § 106 Urhebergesetz gegeben ist. […]
Um die Sperre aufzuheben und weiteren Strafrechtlichen konsequenzen aus dem Weg zu gehen, sind Sie verpflichtet eien Mahngebühr in Höhe von € 50, - zu bezahlen. Zahlbar durch unseren Payment-Partner Paysafecard. Nach Bezahlung wird Ihr Computer automatisch entsperrt.
The alert is completely fictitious, and you should not even consider paying the fine, because the crimes stated are made up, and there is no guarantee that schemers would actually unlock your computer if you did use Paysafecard to transfer the money.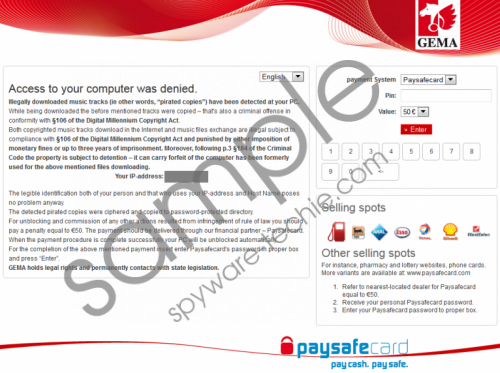 "Access to your computer was denied" virus screenshot
Scroll down for full removal instructions
In non-techie terms:
There should be no question in your head whether the presented notification is legitimate or not, because if you waste time postponing "Access to your computer was denied" virus removal, schemers could infect your PC with even more malicious applications. To start the virus removal processes you will firstly need to unlock the PC, and you can do that by restarting your computer, hitting F8 and choosing Safe Mode with networking, which will allow you to access the web and install automatic removal tools. If you are operating Windows 7 or Vista, all you will need to do is install the tools to delete "Access to your computer was denied" virus, after which you will be able to restart Windows normally. However, if your Windows version is XP, after rebooting into Safe Mode with Networking and downloading SpyHunter, you will also need to disable Startup programs, which would allow you to install the tools after restarting the PC. Do you have more questions on how to delete "Access to your computer was denied" virus? Please, post them using the comment box below.
Aliases: Gema Infection.