Do you know what Access+ is?
Access+ is a potentially unwanted program that was designed to provide you with custom search results. While this program is far from a malicious computer infection, it would be a good idea to remove Access+ from your browser right now. We often install such apps on our computers without even realizing it. Hence, it is necessary to step up your system's security so that you could avoid similar programs in the future. For the most part, you just need to review your web browsing habits because that's mostly how such programs reach your computer.
Now, why are your web browsing habits important when it comes to protecting yourself against such applications? The truth is that users often install the likes of Access+ accidentally. Although these potentially unwanted programs may have official sources, the chances of users adding this extension to their browser via the Chrome Web Store are very low.
It is far more likely that Access+ comes bundled with freeware or through various pop-ups and redirects. Thus, when you download need programs, you need to make sure that you download them from reliable sources. Please refrain from downloading apps from file-sharing websites. Choose only the official vendor websites instead.
Also, if you often venture into various online gaming sites, video streaming pages, and other websites that are full of flash advertisements, be careful about where you click. Sometimes, clicking anywhere on such a page launches a pop-up or a redirect that automatically asks you to add something like Access+ to your browser. You can always decline. But if the pop-up is very annoying and doesn't allow you to close your browser, you can just kill the browser window with the Alf+F4 command. Either way, it is always possible to avoid such applications as long as you are careful enough.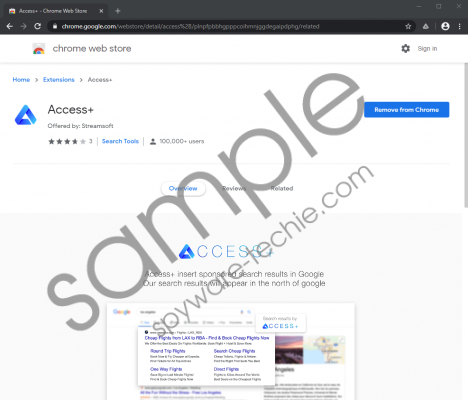 Access+ screenshot
Scroll down for full removal instructions
The good news is that Access+ doesn't modify your browser's settings to the point it might feel intrusive. For example, some potentially unwanted programs tend to change your default homepage and search engine settings, which makes them look like browser hijackers. Access+ does not do that. It doesn't change the search settings. However, based on what we know about the app, it can modify and collect search results.
Also, when you add Access+ to your browser, it requires certain permissions to work properly. It asks you for site access, and then, once the extension is added, it says that it can "read and change your data on sites. You can control which sties the extension can access." This doesn't sound like much of a problem, but it means that the extension can perform monitoring to a certain extent, and it can also expose you to commercial content.
The official information about the extension says that Access+ "inserts our sponsored search results into Google search" and that it "gives you more Search results." As one can probably tell, these sponsored search results are likely to be related to your likes and preferences. And to provide you with such content, the extension needs to monitor your web browsing.
Another problem is that Access+ doesn't review the content of those sponsored results. So, anyone can make use of the application to provide you with third-party content. If the embedded content is corrupt, you might end up getting exposed to various online marketing schemes. In the worst-case scenario, it would be possible to get infected with malware, too. Hence, if you didn't intend to have this application on your computer, do yourself a favor and remove Access+ right now.
Since it is a browser extension, it is not complicated to delete Access+. However, you might also want to consider to reset your browser settings to default. If you want to be sure that your system is safe, you can scan your computer with the SpyHunter free scanner. Should more unwanted programs be found, you can terminate them automatically.
Although investing in a powerful security application is an important step in ensuring your system's safety, please don't forget that you have to be careful about where you download your apps from, too. Just like Access+, some other unwanted application might easily reach you if you are not careful about the sites you visit.
How to Delete Access+
Launch your Chrome browser.
Press Alt+F and select More tools.
Choose Extensions.
Locate Access+ and click Remove.
In non-techie terms:
Access+ is a Chrome extension that is supposed to help you find more relevant search results. However, this application may inadvertently expose you to potentially harmful content. Not to mention that it often gets added to your browser accidentally. Therefore, when you don't want an app, but it still enters your system, you should see to it that you remove Access+ (and anything similar to it for that matter) from your PC as soon as possible. If necessary, employ a system security tool.