Do you know what Abrasive App is?
Abrasive App is the kind of program that makes one raise an eyebrow immediately. First of all, its name is pretty unusual for a program that is meant to optimize the system. Perhaps its creator intended it to sound like a tool that is harsh towards all errors and issues that, allegedly, are slowing down your system. If something is slowing down your system, you should not run to a system optimizer first. Instead, you should scan your system with a legitimate malware scanner. If it finds no threats, you can think about disk space and how to optimize it manually. For example, do you need to empty %TEMP% or clear browsing data to speed up your web browser? If you end up choosing to implement an optimizer, choose wisely. If you continue reading this report, you will learn why our research team recommends removing Abrasive App.
You probably downloaded Abrasive App onto your Windows operating system from abrasive.app. How did you find the installer introduced by Click Aurum Pvt Ltd.? Did you find it using your search engine? Did you find an online advertisement that linked to it? Did you use an entirely different installer altogether? In either case, we advise scanning your system now. Hopefully, malicious threats do not exist, but if you discover that you need to remove anything, you should not waste time. Overall, it is not that surprising that Windows users end up installing Abrasive App. This application is meant to fix errors, optimize and clear the system, and also boost speeds. On top of that, one does not need to register or pay upfront, and so installing the PUP (potentially unwanted program) might seem like a completely harmless thing. If you acquire it, it is installed at %PROGRAMFILES(x86)%\Click Aurum Pvt Ltd\Abrasive\.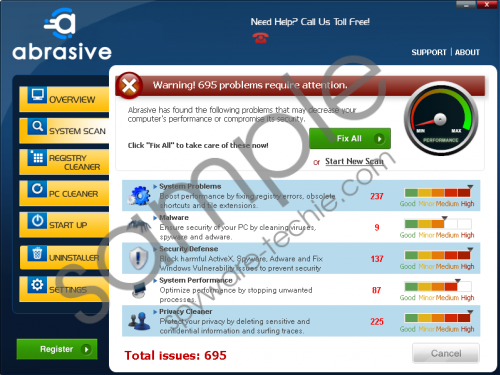 Abrasive App screenshot
Scroll down for full removal instructions
As soon as Abrasive App is installed – and the installer is automatically blocked by some browsers, such as Google Chrome – it launches its window. You can initiate a system scan to learn what kinds of issues, allegedly, need fixing. According to our research team, the PUP uses warnings and elements that are not warranted. The scanner uses such statements as "Warning! # problems require attention" or "Abrasive has determined that your computer required immediate attention!," and they are meant to make you take immediate action. What leads to that? Payment. At the time of research, it was not possible to register and pay for the services, but that is an issue that could be solved in the near future. Of course, even if it is possible for you to pay for Abrasive App, we do not recommend it. The supposed "problems" are exaggerated, and we are sure that you can invest your money in better ways.
In conclusion, we identify Abrasive App as a PUP because we do not believe that it uses the most transparent manner of marketing, and we also do not believe that its services are worth the money. It is highly questionable whether or not your system would run any faster if you employed this tool. If you wish to delete Abrasive App from your operating system, you should think about the method of removal that you are most comfortable with. Are you interested in deleting the PUP manually? If that is the case, follow the guide below. Are you more interested in having the PUP eliminated automatically? Then install anti-malware software. This is the option we recommend because besides clearing PUPs, the software can also ensure Windows security, which is crucial.
Remove Abrasive App from Windows
Open the Start menu from the Taskbar.
Click Control Panel (use search on Windows 10 if you cannot find it).
Click Uninstall a program (under Programs).
Right-click/select the unwanted application and then choose Uninstall.
In non-techie terms:
Abrasive App might seem like a useful tool at first, but our research team strongly recommends that you consider deleting it from Windows. It is classified as a potentially unwanted program, and there are several reasons for that. First of all, there is no free trial version, and so you do not know what you would be paying for. Second, the "problems" that this PUP finds are unlikely to be that serious. Finally, it seems that the PUP uses exaggeration and intimidation to boost purchases. It should be possible to uninstall this program using the manual removal guide above, but our research team recommends implementing anti-malware software if other threats are found or if the system lacks basic protection.