Do you know what ABC Ransomware is?
ABC Ransomware is another nasty infection you might encounter if you are not cautious enough. It seems to be a new version of Globeimposter Ransomware, specialists say, so it will, without a doubt, lock your files if it ever successfully infiltrates your computer. Ransomware infections use different tactics to extract money from users. As for ABC Ransomware, it encrypts personal files following the successful entrance. We know that you need to unlock your files badly, but we cannot tell you that there is nothing wrong to send money to cyber criminals behind this infection because it is very likely that they will take your money, but you will not get anything from them. It should be emphasized that users do not know the size of the ransom they need to pay to be able to unlock their files until they contact cyber criminals. If you are sure you are not going to make a payment, do not waste your time on trying to establish contact with cyber criminals. Instead, go to delete the ransomware infection fully from your computer. These threats are considered one of the most harmful infections available, so it is usually not very easy to disable them. Luckily, ABC Ransomware is not one of those ransomware infections that make a bunch of changes on victims' computers, so we are sure you will erase it yourself from your system.
Even though ransomware infections usually slither onto users' computers illegally, it is hard not to notice their entrance because these threats apply changes right away. ABC Ransomware is no exception. If this malicious application ever slithers onto your computer successfully, we are sure it will not take long for you to discover a bunch of encrypted files. It goes without saying that you could no longer open these locked files. Also, you will see them having new extensions – the ransomware infection appends .astra to all files it affects. Once pictures, documents, videos, and other valuable files are locked and get the new extension appended to them, a new file here_your_files!.html is dropped on victims' machines. This file is a ransom note. If you open and read it from beginning to end, you will find out why it is no longer possible to open files: "All your files have been encrypted due to a security problem with your PC." Also, you will be told to open the provided .onion link using the TOR browser and contact cyber criminals. You can send 1 file for them to get it decrypted for free, but you should definitely not pay money for the decryption of the rest of your files because the chances are high that you will not get your files unlocked even if you pay money for the special decryption tool. Free decryption software might be developed in the future, but this will surely take some time, so you should not delete those encrypted files from your system. Of course, the ransomware infection itself must be removed fully ASAP.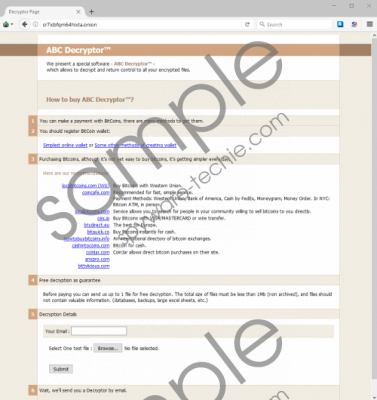 ABC Ransomware screenshot
Scroll down for full removal instructions
It is hard to say how ABC Ransomware has entered your computer because ransomware infections might be very sneaky. Of course, it is already known how these threats can slither onto users' computers. Specialists say that ransomware infections usually infiltrate computers when users open malicious attachments from spam emails. Also, they might download these threats together with third-party software. Third, users might initiate their installation by clicking on malicious links. It might be extremely hard to prevent undesirable software from entering the system in some cases, so you should not try to protect your system alone. The easiest way to ensure the system's maximum protection is to install an antimalware tool. You should do this immediately after the ABC Ransomware removal because new malware might need only one second to infiltrate your computer.
You will disable the ransomware infection quite easily. There are only two removal steps you need to take. First, kill suspicious processes that might be directly associated with the ransomware infection. Second, remove suspicious files and the ransom note from your Desktop. You should also scan your computer with a trustworthy antimalware tool to make sure you do not leave any malicious components on your system.
Delete ABC Ransomware manually
Press Ctrl+Shift+Esc.
Open the Processes tab.
Kill all suspicious processes.
Close Task Manager and open Windows Explorer (tap Win+E).
Check %USERPROFILE%\Desktop, %USERPROFILE%\Downloads, and %TEMP%.
Delete all suspicious files.
Remove here_your_files!.html from Desktop.
Empty Trash.
In non-techie terms:
ABC Ransomware is one of those nasty infections that will ruin a bunch of files on your computer if it ever enters your system. All it wants is your money, but you should not send a cent to crooks behind this infection. There is no point in doing that because there are still no guarantees that it will be possible to unlock files after making a payment. Instead, you should focus on the removal of this ransomware infection. If it is not removed fully from the system, it might be launched accidentally again and lock more files.